I am creating a new reading challenge for myself, a two-part one. I have several long-term ones running at the moment. So, what I obviously need is one more. But I've been meaning to do this for a while, and it's time.
My physical book shelves are out of control; completely overflowing their bounds, and this is entirely my own fault. I am really bad about putting a book on the self and then—out of sight, out of mind—totally forgetting about it. I end up reading almost entirely from newer books that are fresher in mind and older books sit around getting older.
So, what I did this morning was pick out five of the oldest books I've won over the years (be it from Goodreads, author websites, twitter, whatever). Some of them I've owned long enough to have packed and shipped them to England AND BACK with our international moves. It's time to get them read and reviewed.
This turned out to be: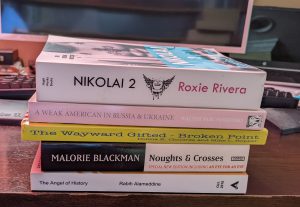 A Weak American in Russia & Ukraine, by Walter Parchomenko (which seems especially timely given the state of Russia and the Ukraine right now)
Broken Point, by Donna K. Childree & Mike L. Hopper
Noughts & Crosses, by Malorie Blackman
The Angel of History, by Rabih Alameddine
Then, since physical shelf space is what is lacking, I grabbed the longest, most epic of epic books on the shelf. I accomplished this with the super scientific method of looking at the shelves and pulling out the fattest ones.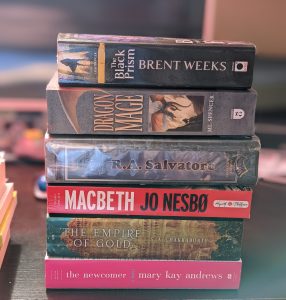 For the epic stack I pulled out six books. (I suppose, technically, Nikolai could cross over and fit either stack.) But the six I'm counting here are:
The Black Prism, by Brent Weeks
Dragon Mage, by M.L. Spencer
The Icewind Dale Trilogy, by R.A. Salvator
Macbeth, by Jo Nesbø
The Empire of Gold, by S.A. Chakraborty
The Newcomer, by Mary Kay Andrews
And of course, The Empire of Gold is actually 3rd in its series. So, I'll need to read the previous books first.
This is obviously a challenge that will take a while. I can't even dive into it right away. I've committed myself to several reviews with deadlines that I have to get done first. But I've pulled the books from the anonymity of the general book shelf, which means I'll hopefully remember to grab them when looking for my next read.
Plus, I've been reading a lot of short stories lately. Which Goodreads just counts as a book. So, I feel like my Goodreads Challenge numbers are inflated. Reading some epics will balance the scales a little. Right?
I figure this aught to keep me busy for a while and free up a collective 2-foot, or so, of space. Success!
---
Edit: I've decided to simply add links to the reviews as I finish these books, rather than do a separate wrap-up post.