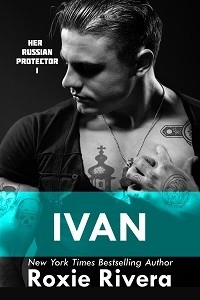 I actually have both a Kindle and paper copy of Ivan, by Roxie Rivera. The ecopy I grabbed free from Amazon, where it is still free. But I later won a signed paperback from KindleObsessed.
Description from Goodreads. 
Desperate to find her sister, Erin goes to the only man in Houston who can help her–Ivan Markovic. The intimidating, tattooed Russian operates one of the most elite mixed-martial arts training centers in the world but it's his shadowy past and reputed connections with Houston's underworld that interest her most. 
To find her sister, she'll need the help of her big, scary Russian protector—but asking for help from a man like Ivan carries a steep price, one that might just include her heart.
Review:
Ok, let's be honest here. I knew what I was getting into–a little erotic fluff. I didn't expect much. But even so, I was disappointed. I really wish I had read this on my kindle so that I could search the word never to see how many times it popped up. Because that's basically what this book is, a list of things Ivan did that Erin had never encountered. Never had a man looked at her like that. Never had a man made her feel so safe. Never had a man touched her like that. Never had a man been so enticing. Never had she had a man with such a big c*ck. Never had a man made her come so often (seriously, it's inhuman how frequently and with so little effort she can climax).
Never, never, never and that's before we even get into Ivan's nevers. Never had he seen a a woman look so innocent. Never had he been so mysteriously attracted to someone. Never had he let his guard down. Never had he broken his own rules, never, never, never. And these two people are supposed to have known each-other for 8 hours.
The whole book is so oversimplified and ham-fisted I honestly think the author could have just listed the tropes and comparisons she was using and the story would have been just as discernible. Tattoos equal violence. Big equals manly. Small equals feminine. Big eyes equal innocence. Drug addiction equals whore. Even the attraction is instant and unexplained. Literally, "The instant we made contact an electric zing arced through me. What? Why?
Then, to top it all off (and this is a little spoilery), the author wimped out on Ivan's past. She spent the whole book talking up how violent he must be, because he has so many tattoos (and yes, I get that tats in the Russian mob are supposed to be symbolic, but one would assume this was within reason), then it turns out he's horribly ashamed of his non-murderous (and frankly not that bad) history with the mob, thereby invalidating all the buildup.
Lastly there was the sex. I mentioned Erin's propensity to insta-orgasm. We'll just leave that one alone. I'm afraid I just didn't find the sex scenes in this book erotic. Nothing in what was done or the way anything was described appealed to me. It read like a Ikea kit directions sheet–insert this here, turn that there, etc. It all left me skimming (and that's unfortunately not a euphemism of anything good).