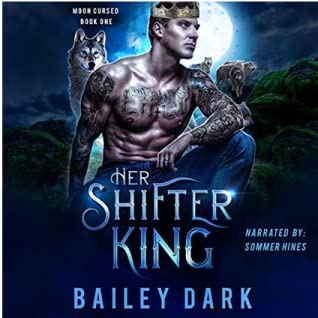 I picked up an Audible code for a copy of Her Shifter King, by Bailey Dark, somewhere along the way. It's narrated by Sommer Hines.

A past she can't remember. A secret he must keep hidden. A passion they never saw coming.
Ten years ago.
That was the last time I knew peace, family, sanity.
But after they came for me – everything changed.
Now, I live my life as an outcast, hiding among the shadows of each new city. Every move I make is a risk, and I'm fully aware that I'm only one wrong turn away from certain death.
When I find myself trapped between an enormous wolf and the monstrous shaded creatures that have been hunting me for the last decade, it seems my time is up.
Except, it isn't.
My beastly savior shifts into a not-so-mortal man. He claims to be King Alpha of the Blueblood pack in Detroit, and he has a deal for me: Marry him and become his mate, and he'll offer me more freedom and protection than I could ever have on my own.
Sounds too good to be true, which usually means it is, but I'm in no position to refuse this overbearing, dominant, ridiculously handsome warrior.
So, I make a choice.
On the surface I'll play his game and be his wife. But behind the scenes, I'll use his resources to find out the truth behind who I am and what he really wants from me before he can get it.

I guess this was ok. Listening to it got me through a tedious day of stripping wallpaper (and the narration by Summer Hines was fine). But nothing about it stood out as exceptional in any real way. None of the characters were particularly well fleshed out, though I did like several of them. The world felt half-hazard and pieced together, though it had interesting elements. The plot was paper-thin, but not uninteresting. Unfortunately, it does end without anything being concluded. Some might call that a cliff-hanger, I call it just half a plot. But that's semantics. All in all a true "Meh" read if ever I saw one, neither horrible nor excellent. I might continue the series if I came across the next book for free, but I wouldn't spend money on it; if that tells you anything.