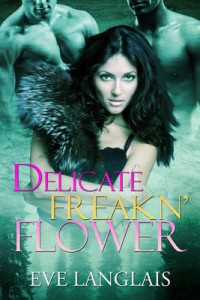 I grabbed Eve Langlais' erotic shifter novel, Delicate Freakn' Flower from the Amazon KDP list.
Description from Goodreads:
Dammit , just how many toes was she going to have to stomp on before people realized she was a delicate freakin' flower?
Naomi doesn't want to follow tradition and settle down with a violence-loving, chest thumping shapeshifter. She grew up in a household with five, testosterone laden brothers where none of the dishes ever matched, the ugly-as-sin furniture could withstand any catastrophe, and where crazy glue was bought by the case.
When fate—with a snicker—makes her meet not one, but two mates, Naomi digs her heels in and refuses to do what her wolf—and her body—demands. No way is she voluntarily allowing herself to get hitched to a pair of dumbass—totally hot and muscled—lacrosse players.
Can Ethan, the towering Kodiak bear, and Javier, the sexy, tanned jaguar convince this she-wolf that life with them won't be all chaos? And can this delicate freakn' flower unbend her prejudices enough to recognize she needs a pair of men who can handle her thorns—and her passion? 
Warning: this is a hot threesome story where all the focus is on her with pleasurable consequences.
Review:
Delicate Freakn' Flower is just plain pulp. You can even tell from the sarcastic title that it isn't going to be anything serious. But if that's what you're looking for, it's all good. There isn't a lot to the plot, but not much is promised in the description either. You get what's on the cover in this one.
Naomi's character is a lot of fun. Don't get me wrong, she's a total bitch to almost everyone. But I rather enjoyed the fact that all of the men around her let her be that way, even liked her that way. It's one of my favourite fictional events when strong men allow a female complete control over them, or cower in the face of her fury. Of course they could stop it. Of course they are only allowing her the control, but I still always get a kick out of it. This book has that in spades. In fact, it's pretty much the crux of the plot.
On a side note, though subtle, I appreciated that Naomi isn't described as a twig. She has large breasts and a gently rounded tummy. That tummy is still worshiped by two hot guys. I really liked that she was described this way AND Langlais didn't make any sort of issue about it. Not once did she call herself fat or appear anything but comfortable in her own body. I may be reading more into it that was intended, but I thought it marvellous. 
The beaus, Ethan and Javier were just as sexy as you would expect. I did have to wonder that their relationship wasn't explored more. The two of them did everything together even before discovering Naomi, including previous threesomes. They didn't even blink when they discovered they shared a mate and seemed to be in complete accord about everything. It's hard for me to not see them as a couple with or without Naomi. This wasn't even hinted at, of course, but I think the book might have had a little more depth if it had been addressed one way or the other.
While the book was generally well written, there was some unfortunate language use (IMO). Prick, pussy, cleft, cleft, cleft…why does it have to sound like cheap porn to be considered erotic? I haven't figured that out yet. At least Langlais had the grace to not throw cunt around too. On the same theme I found it disconcerting that when the trio finally made it to the bedroom together Ethan, poor shy, awkward Ethan was the one throwin' down the dirty talk. It didn't fit his previous character at all.
In the end the book was utterly ridiculous, but a fun/hot way to pass a couple of hours. Plus, it was a freebie. How could I possibly complain.