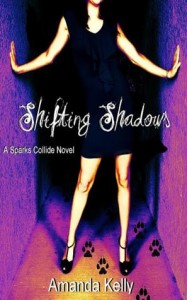 I downloaded a copy of Amanda Kelly's Shifting Shadows (Sparks Collide, #1) from the Amazon KDP list.
Description from Goodreads:
Party boy and werewolf, Jay Dellarson is stunned when his uncle hires a human to be his newest assistant. Kira Franklin is a sheltered girl with a mysterious past who's finally taking charge of her life. When Jay and his pack begin to spend more time with the new girl in town, things start to unravel. Kira fights to keep her secrets hidden but when she finds out the truth of the town's inhabitants it puts her in greater danger than ever before. While discovery of the werewolves' secrets is dangerous, it's discovery of Kira's secrets that could place everyone in the middle of a vicious war.
Review:
This was an alright read if you like the kind of thing. It is told in first person, which I generally dislike. To complicate things it is told in first person from the perspective of two people. I found this really distracting and annoying. Now, I did appreciate being able to see both character's POVs, but I've found myself constantly having to double check the chapter headings to remember who was currently narrating.
I really, really liked that this was not a case of insta-love. I found the romance a lot more realistic for the time it took to develop. But this was definately one of those books where the heroine manages to charm everyone effortlessly and by the end it starts to feel just a little too kumbaya for my taste–with everyone throwing wonderful affirmations around. This always strikes me as an underdevelopment.
The book seemed to throw the magic in all of a sudden. One moment Kira is going along as a normal girl unknowingly hanging out with the werewolves, the next she is suddenly off doing her thing. (I don't want to give a spoiler, but suffice it to say there is no build up and so the reveal seems very abrupt.) I also didn't quite grasp the seriousness of her situation. I understood she was in hiding because of the war. But she wasn't anyone special to it, not a princess or the daughter of a leader or an active participant. She was just one girl so I saw no reason for her to be any more hunted than anyone else. Therefore all of her and her family's precautions seemed really over the top.
It also ended without ending. I know that this is the first of a series, but my absolute, number one, literary pet peeve is…I would call it a cliffhanger, but that's not right. A cliffhanger infers an actual conclusion of some sort while leaving some thread open for continuation. Nothing in this book concludes. There is one red herring event that substitutes an ending, but that's just a cheat. The perpetrator of the mysterious attacks that plaque the whole book is not only not revealed it isn't even addressed because it is still open and in the air.
I think this probably counts as New Adult as opposed to YA since the characters are all in their mid-twenties, but there isn't any sex. I'm still figuring out what falls into that genre. I enjoyed the read.