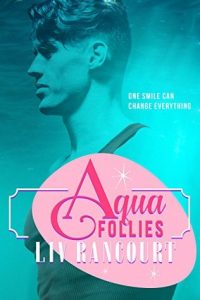 Author, Liv Rancourt sent me a copy of her novel Aqua Follies for review.
Description from Goodreads:
The 1950s. Postwar exuberance. Conformity. Rock and roll.
Homophobia.
Russell tells himself he'll marry Susie because it's the right thing to do. His summer job coaching her water ballet team will give him plenty of opportunity to give her a ring. But on the team's trip to the annual Aqua Follies, the joyful glide of a trumpet player's solo hits Russell like a torpedo, blowing apart his carefully constructed plans.
From the orchestra pit, Skip watches Poseidon's younger brother stalk along the pool deck. It never hurts to smile at a man, because good things might happen. Once the last note has been played, Skip gives it a shot.
The tenuous connection forged by a simple smile leads to events that dismantle both their lives. Has the damage been done, or can they pick up the pieces together?
Review:
This is a hard on for me to review. The book is really well written, easily readable and well edited. It has two likable characters and a realistic plot and setting. However, I didn't enjoy it personally, and that's not the fault of the book. It's just that, while I understand that 1950s America was a horrible time and place to be gay and there were very real reasons to be afraid of being outed, I got really tired of Russell's back and forwards. I understood it, but I had a hard time liking him each time he treated Skip poorly because of his own insecurities. And I never could forgive Ryker (and to a lesser degree Susie), so Rancourt's attempt to redeem them in the end totally flopped for me.
So, how do you rate a book that you can objectively say is a good book, but not a book for you? I don't know either. But it is what it is.