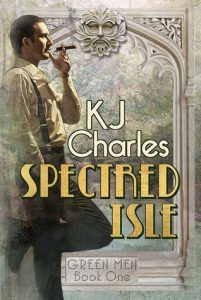 I received a copy of K. J. Charles' Spectred Isle from the author.
Description from Goodreads:
Archaeologist Saul Lazenby has been all but unemployable since his disgrace during the War. Now he scrapes a living working for a rich eccentric who believes in magic. Saul knows it's a lot of nonsense…except that he begins to find himself in increasingly strange and frightening situations. And at every turn he runs into the sardonic, mysterious Randolph Glyde.
Randolph is the last of an ancient line of arcanists, commanding deep secrets and extraordinary powers as he struggles to fulfil his family duties in a war-torn world. He knows there's something odd going on with the haunted-looking man who keeps turning up in all the wrong places. The only question for Randolph is whether Saul is victim or villain.
Saul hasn't trusted anyone in a long time. But as the supernatural threat grows, along with the desire between them, he'll need to believe in evasive, enraging, devastatingly attractive Randolph. Because he may be the only man who can save Saul's life—or his soul.
Review:
Honestly, I didn't love it. I liked it. Charles' quality is still there and she simply does historical so well. But I really felt like I'd been dropped into the middle of this story. Maybe it's because I've not read The Secret Casebook of Simon Feximal, which is set in the same world, but this isn't supposed to be a sequel to. Maybe it's because Saul and Randolph each have so much history that we're told about, but don't engage in. I don't know, but I never ever felt connected to them or the side characters. I liked the story, was invested in the mystery, but it's just another book I've read, not something that will stick with me, like most of Charles books are.