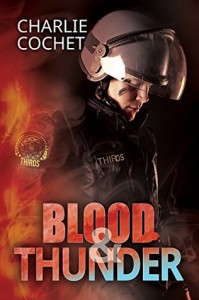 After reading Charlie Cochet's Hell & High Water, I bought a copy of the sequel, Blood & Thunder.
Description from Goodreads:
When a series of bombs go off in a Therian youth center, injuring members of THIRDS Team Destructive Delta, and causing a rift between agents Dexter J. Daley and Sloane Brodie, peace seems unattainable. Especially when a new and frightening group, the Order of Adrasteia, appears to always be a step ahead. With panic and intolerance spreading and streets becoming littered with the Order's propaganda, hostility between Humans and Therians grows daily. Dex and Sloane, along with the rest of the team, are determined to take down the Order and restore peace, not to mention settle a personal score. But the deeper the team investigates the bombings, the more they believe there's a more sinister motive than a desire to shed blood and spread chaos.

Discovering the frightful truth behind the Order's intent forces Sloane to confront secrets from a past he thought he'd left behind for good, a past that could not only destroy him and his career, but also the reputation of the organization that made him all he is today. Now more than ever, Dex and Sloane need each other, and, along with trust, the strength of their bond will mean the difference between justice and all-out war.
Review:
I liked this better than book one, probably because I was more prepared and knew what I was in for. It better fit my expectations, but it's still not topping my favourites list.
It's fairly well written. I kind of thoughts names were occasionally used a little too often to be natural, but didn't think this was a pervasive issue. It just cropped up now and again. So, I basically have no real complaints about the writing. I don't remember any big copy edit problems. So, I don't really have any issue with that either.
It's just that the whole thing brings out the 'meh' in me. Nothing strikes me as deplorable, but nothing makes me fall in love either. The closest the book comes to really piquing my ongoing interest is Ash and Cael's possible relationship. Dex & Slone: I'm kinda done.
I feel as if the whole thing is like a high school class clown, who's funny, but obviously trying so hard to be funny that you kinda laugh at him as much as with him and it's just a little sad. Dex's antics are over the top, everyone loves him (and really, who's loved by everyone), he's too good at his job, too loyal, too funny, too clever, etc. He's too much.
Sloane, sexy as he is, grated on my nerves. He's so in his head and so overly dramatic that I basically stopped caring about him. Plus, I thought poor Ash got ignored. I mean, going back to the facility was as bad for him as Sloane, but he gets no screen time for it.
Then there is the percentage of gays in the THIRDS. Now, don't get me wrong, I read mm romance because I love them and I'm thrilled to know Calvin & Hobbs are working their thing out, Ash & Cael might finally get together, Letty is happy with her long-term girlfriend (or is it Rosa, those women are so secondary, cliché and interchangeable I can't be sure at this point), Hudson is still pining over Hobb's brother (and Vice versa), Taylor would love a go at Dex, etc. There appears to be one straight woman in the whole book…well and Maddox. And while individually each is hot in its own way, unless there is some reason for it, it starts to get redundant after a while.
<Don't read this paragraph if you're squeamish about sex talk.>If I am really honest, I also happened to think the sex in this one is redundant too. It is just all same-same. I know it seems to be a popular trend these days to cum in the mouth (at least in books, I don't know about RL), I'm not really bothered by the act itself, but over and over to the exclusion of almost everything else? No thank you, especially when the tone trying to be set is making love as opposed to just fucking. More meh.
I also thought that the ending was anticlimactic. There was all this build-up and then just wham, we're done. Yes, I get that this was supposed to be indicative of how much of a surprise it was to the leader of the Organisation too, but I felt cheated. Speaking of cheated, am I the only one who would have liked a little shifting in their shifter book? I wanted to see some big cat badass action, but it was not to be.
Anyhow, for a middle of the road, fun but not stellar read this one will do. I'd be happy to read more of Cochet's reading, but she's not on auto-buy yet.