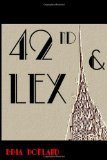 I grabbed Bria Hofland's PNR novel, 42nd & Lex from the Amazon KDP free list.
Description from Goodreads:
A divorce lawyer by trade, I have been soured on love for years. I haven't had a date in months and now my childhood best friend—you know the über pretty and together one—has hired me to handle her divorce. If she can't keep a man then there is no hope for me. Then a chance meeting on an elevator changes everything. Lucan O'Reilly is good looking, wealthy, and has an apartment to die for. He always seems to know just what's on my mind. The perfect man, actually. But is it all too good to be true…
"Shh, I'm ready to tell you," he whispers and with that I hear him speak a word in my mind. Vampire. Unfortunately, this is the least of my concerns for a new relationship fraught with secret ceremonies, blood hungry enemies, and saving Lucan's soul. 
Review:
This wasn't at all what I was expecting. I thought it would be a hot paranormal, if not erotic, romance. It wasn't. There were a few incredibly mild sex scenes, but the sizzle level was along the lines of 'we made love until morning.' Meh.
I did enjoy Abri though. She was a feisty heroine who knew her own mind and didn't easily bend to the overprotective nature of her literary mate. Said mate, Lucan, was a pleasant surprise in and of himself. He was kind and considerate and even sexy. What he was not was any sort of overbearing alpha male. It was nice to see that mould broken. He was exceedingly wealthy though. (I guess an author can't be expected to break them all.) An annoyingly large portion of the book was dedicated to showcasing his money–his cars, clothes, jewellery, fancy restaurants, high price real-estate, etc. All of which he, of course, showers her with. After a while it just felt like a plot prop.
The book could do with another round of edits. There are a lot of missing words, mostly pronouns and particles. There are also a few word choice issues. The repeated use of the word least when lest is meant, for example. The story was still perfectly readable, enjoyable even, but it would be hard to miss the mistakes.
All-in-all I found it a sweet little romance novel with a few weak attempts to broaden the plot. The whole Serge drama fell a little flat with me. He didn't feel like enough of a threat to warrant as much attention as it was given. The whole vampire reveal seemed a bit ho-hum. No one seemed bothered in the least by it. Even the scary high council just felt like cheery geriatrics. Be that as it may, it was still a fun little read.