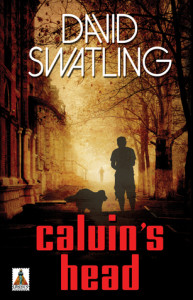 I received a copy of David Swatling's novel, Calvin's Head, from Netgalley.
Description from Goodreads:
Life in Amsterdam isn't all windmills and tulips when you're homeless. Jason Dekker lives in a jeep with his dog, Calvin, on the outskirts of the city. A thesis on Van Gogh brought him to the Netherlands, and the love of Dutch artist Willy Hart convinced him to stay. But Willy is gone and Dekker is on the brink of a total meltdown. On a summer morning in the park, Calvin sniffs out the victim of a grisly murder. Dekker sees the opportunity for a risky strategy that might solve their problems. Unfortunately, it puts them directly in the sights of the calculating stone-cold killer, Gadget. Their paths are destined to collide, but nothing goes according to plan when they end up together in an attic sex-dungeon. Identities shift and events careen out of control, much to the bewilderment of one ever-watchful canine. Oscar Wilde wrote that each man kills the thing he loves. He didn't mean it literally. Or did he?
Review:
Well, this book starts off with a bang, before tapering off to a much more manageable, pleasant pace. It's told predominantly from the POV of down-on-his-luck Dekker, but also occasionally from that of psycho, Gadget, and the unusually smart dog, Calvin. Yes, the dog has his own POV. Calvin's contributions feel a bit scattered and pointless for a while (He is a dog after all, how cognisant would you expect his POV to be?), but it really does contribute to the story and he's incredibly important.
I did wonder why it never seemed to even occur to Dekker to return home to the States, as opposed to remain homeless in Amsterdam. (I imagine the embassy would help.) Seems it would have simplified his situation. I suspect this was supposed to be because he had been in Amsterdam so long he considered it home. But it's never made clear exactly how long he's been there or even how old he is, to approximate it based on how long ago he finished the thesis that brought him there in the first place, assuming he did at some point. This lack of age was only exacerbated when he gave Gadget the moniker, The Kid, while guessing he was in his early 20s. This inability to anchor the story in time bothered me, but not enough to put me off reading it.
I also think the interspersed Valentine stories felt gratuitous. I understand why they were included and what they were meant to be providing the book, but it mostly just felt like an easy plot device to add the little bit of extra sex that the plot appeared to be missing. Meh.
While the story had a fair-handed (if anti-climactic) ending, I wouldn't necessarily call it a happy one. I appreciate this. One of my pet peeves is books that can't bear to let stories end in realistic languishment. Granted, Dekker is on the upswing, but he's still uncertain where to go from where is it. It feels much more real than if he'd found his sudden happily ever after.  It's a thriller after all, not a romance.
Final thoughts: this one had almost everything you could want…a little action, a little romance (of sorts, though I don't think the word fits well), some feelz, an interesting setting or two, some art history, a cute dog (I'm a dog person, so this tickled me), a bad-bad man, a relatable nice-guy, good writing, etc. I'll be looking for Mr. Swatling's next book.