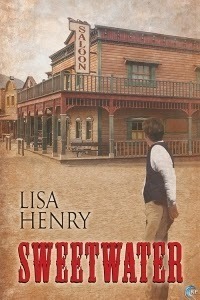 I received a copy of Lisa Henry's Sweetwater from Netgally.
Description from Goodreads:
Wyoming Territory, 1870.

Elijah Carter is afflicted. Most of the townsfolk of South Pass City treat him as a simpleton because he's deaf, but that's not his only problem. Something in Elijah runs contrary to nature and to God. Something that Elijah desperately tries to keep hidden.

Harlan Crane, owner of the Empire saloon, knows Elijah for what he is—and for all the ungodly things he wants. But Crane isn't the only one. Grady Mullins desires Elijah too, but unlike Crane, he refuses to push the kid.

When violence shatters Elijah's world, he is caught between two very different men and two devastating urges: revenge, and despair. In a boomtown teetering on the edge of a bust, Elijah must face what it means to be a man in control of his own destiny, and choose a course that might end his life . . . or truly begin it for the very first time.
Review:
This is the third of Lisa Henry's books I've read this year and I find that I love her writing, but was starting to despair that perhaps we just didn't share tastes in stories. Fair enough, everyone's preferences differ. But this book changed my mind. I really enjoyed it. It's gritty, but still provides the reader a glimpse at a possible HEA (without ever tripping over into sickeningly sweetness, which I have no stomach for).
Yes, some parts of it—ok, the whole first half—were really uncomfortable to read. Even as I understood what drew Elijah back to Harlan, I hated seeing him go. Hated seeing him endure and, not only kick himself, but elicit others to do it for him. I hated it, felt indignant on his behalf. I understood it, but I hated it.
Actually, now that I think on it, that was my relationship with a lot of this story. I understood things, even as I didn't like them. That can't be easy for an author to balance. For example, I disliked that a lot of the times Elijah really did come across as the simpleton we're told again and again that he isn't. But I also understood that what Elijah was, wasn't simple, but emotionally isolated and inexperienced. It's not the same thing.  And it physically hurt my heart to watch him grieve, but I understood the need for it.
Then there was Grady, oh Grady. He was marvellous. Yes, his is a bit of an insta-love, but it's explained well enough to feel believable. This is mostly because, though he was instantly attracted, he took no immediate action toward Elijah. I really enjoyed seeing him 'gentle' the skittish boy.
One final thing I'd like to mention is Henry's writing. I'm not sure how to explain that it strikes just the right tone for the story told. It feels a little removed from itself, if that makes sense, and occasionally is clipped bare of extraneous prose. It feels right for a story told predominantly from the vantage of a partially deaf character, who can never quite be part of polite conversation, and therefor society.
I'm calling this a raging success and can't wait to get my hands on some more of Lisa Henry's work.