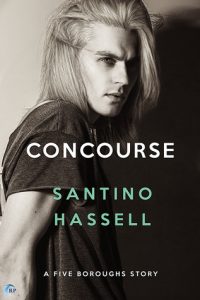 I received a copy of Santino Hassell's Concourse from Netgelley.
Description from Goodreads:
Ashton Townsend is the most famous celebutante of Manhattan's glitterati. The black sheep of his wealthy family, he's known for his club appearances, Instagram account, and sex tape. Most people can't imagine him wanting for anything, but Ashton yearns for friendship, respect, and the love of his best friend—amateur boxer Valdrin Leka. 
Val's relationship with Ashton is complicated. As the son of Ashton's beloved nanny, Val has always bounced between resenting Ashton and regarding him as his best friend. And then there's the sexual attraction between them that Val tries so hard to ignore.
When Ashton flees his glitzy lifestyle, he finds refuge with Val in the Bronx. Between Val's training for an upcoming fight and dodging paparazzi, they succumb to their need for each other. But before they can figure out what it all means—and what they want to do about it—the world drags them out of their haven, revealing a secret Val has kept for years. Now, Ashton has to decide whether to once again envelop himself in his party-boy persona, or to trust in the only man who's ever seen the real him.
Review:
I am sad. I have to say that this didn't really work for me. I won't go so far as to say I didn't like it, I love Hassell's writing too much for that. But this is my least favorite of his books so far. And considering my second least favorite is First and First, I have to think that I just don't love his wealthy dramas as much as his working class boys.
I very much liked seeing a demisexual as a lead character, and I thought it was represented well (as far as I can tell). I liked that Val was from an Albanian culture and that Ashton played into his own androgyny, was open about his love of sex and fetish, and he spoke his mind.
As always the writing is good. But I felt like I'd been dropped into the middle of Ashton and Val's relationship. What's more, because Val was already trying to put distance between the two of them when the book started, and was constantly frustrated, if not angry for much of the book, I felt very much like he didn't even like Ashton, despite everything else. I just never felt their chemistry outside of sex, because so much of it was supposed to be in the past. The sex was hot though.
Lastly, the whole plot line of two people loving each-other, but refusing to be together for whatever reason has never been one that works for me. This is a personal preference kind of thing. So, all in all, I just think this wasn't a book that was ever going to light me up. I'm glad to have read it, because I want to read all the Hassell-books, but it wasn't a big winner for me. Not a flop either, mind you. Just not one for the favorites list.