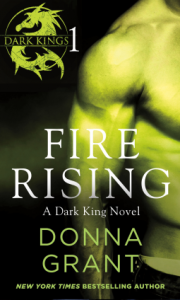 I got a copy of Donna Grant's Fire Rising from NetGalley. This doesn't qualify for my Taking Care of My Own Challenge, but since it was short I decided to get it out of the way.
Description from Amazon:
Sammi's world has been blown to bits—literally. With her pub up in flames, she escapes to Dreagan, the only place she will be safe. Her plan is to recover quickly and leave quietly. What she doesn't count on is meeting the dangerously desirable and enigmatic Tristan…
Tristan is instantly drawn to the woman seeking refuge at the Manor. Dazzled by her stunning beauty and intrigued by her silence about her past, Tristan knows he will not be able to let this woman go, no matter what the cost. And when Sammi slips away from Dreagan, Tristan is compelled to follow…
 Review:
Ok, I have to admit to a foul up when requesting this book. I saw the big old number 1 on the cover and erroneously believed it to be the first in a series. I WAS WRONG! A) It's part one of a four part serial (that's what the number one refers to), so it's not even a complete book. The complete book is due out in June 2014. B) It's part of the Dark Kings series, which is a spin off the Dark Warriors series, and the Dark Warriors series is a continuation of the Dark Sword series. (Yea, that took a little investigating.) Sooooo, maybe I shouldn't feel bad about the fact that I was so lost.
But even though the cover and write up probably could have been clearer about its placement within an extensive preexisting world (dozens of books), I can't really blame it for my mistake. I'll admit there were a lot of characters I obviously should have known and didn't, as well as a whole society and species who's specifics I also didn't know. (Seriously, I never even got a description of a dragon out of the deal!) This effected my enjoyment, obviously. However, I decided to try and review it without consideration for this fact. Because, again, not the books fault.
The thing is, even if I allow for not knowing the history I still wasn't particularly impressed. Everything moved incredibly fast. I mean so fast I never had time to develop a connection with ANY of the characters, or become invested in the outcomes of events, or basically care about anything. It almost felt more like an outline of a story than a truly fleshed out one.
Then there was the romance. It's just as fast as everything else. It's your basic PNR, 'he laid eyes on her and lightning went through his body' kind of thing with no depth of any sort. So, again, there was nothing there to make me care about it.
Now, I adore dragon shifters. They're one of my favourites varieties. I liked that the characters had obvious Scottish brogues and the actual mechanical writing/editing was fine. But I feel like this book depends heavily on a readers familiarity with and love of PNR tropes to satisfy them, i.e. if readers always love insta-love, they'll like it here too, no explanation therefore needed. Or readers always love a arrogant, protective man, so they'll recognise those traits here and love Tristan for it without too much description. Well, while I recognise those tropes, I don't love them and I don't think their identifiability exonerates the author of the responsibly of providing clarifying information. All in all, I finished feeling pretty apathetic about the book. I didn't hate it, but I'm not rushing out for the rest of the series either.