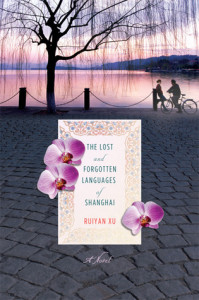 I had doubt about getting this book finished by the new year, but I managed it. The Lost and Forgotten Languages of Shanghai, by Ruiyan Xu, was the X book for my author alphabet soup challenge and the last letter to complete it. I picked it up from the local library.
Description from Goodread:
Li Jing, a successful, happily married businessman, is dining at a grand hotel in Shanghai when a gas explosion shatters the building. A shard of glass neatly pierces Li Jing's forehead—obliterating his ability to speak Chinese. The only words that emerge from his mouth are faltering phrases of the English he spoke as a child growing up in Virginia. Suddenly Li Jing finds himself unable to communicate with his wife, Meiling, whom he once courted with beautiful words, as she struggles to keep his business afloat and maintain a brave face for their son. The family turns to an American neurologist, Rosalyn Neal, who is as lost as Li Jing–whom she calls James–in this bewitching, bewildering city, where the two form a bond that Meiling does not need a translator to understand.
Review:
I'll admit that the book makes the reader think about the importance and intimacies of language, and finds a lot of ways to do this. It also highlights how damning or compelling it can be to have someone who either encourages or discourages self-sabotaging behavior when you're in crisis. So, I can't call the book crap. But I found it painfully over-written (as if a book about language can't be composed of simple, straight-forward words and sentences—pretentious), slow and boring and I disliked almost all the characters almost the whole time, Rosalyn especially.