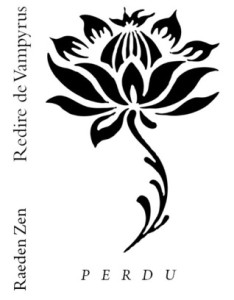 I've had Perdu (by Raeden Zen) for quite some time, having picked it up from the Amazon free list over two years ago.
Description from Goodreads:
Ruth and Eugene Flowers desired the American dream: two kids, a big house, and a dog. But it wasn't meant to be–at least not initially. When a surprise package literally fell into their laps, however, the Flowers would finally get their wish (sort of). Soon, it all goes awry, as mysterious deaths followed by a disappearance permanently disrupt their lives. Meanwhile, many years later, a grown-up Valerie Green, a nearby neighbor's daughter and high-school sweetheart of their son, Zan, hits it huge in the Big Apple, first landing at Columbia University, then at the New York Pioneer, the hottest online periodical in the city. When she is forced to cross the path of hotshot FBI special agent, Dr. Devean Rasr, she doesn't realize she is also wading much deeper into the biggest, most dangerous, and most challenging killing spree in the history of NYC.
Review:
This book is a mess. There's no identifiable main character. It has no consistent timeline. Characters make absolutely unfollowable leaps of logic. Clues conveniently pop out of nowhere. The villain is a character that literally isn't in the novel until the reveal and then isn't in it after, so a nobody. There are several info-drops, most of which is pointless information that is never utilized. There is constant head hopping. Characters appear and disappear as needed. No one have believable emotions. The dialogue is stilted. The love is unfounded and baseless. Pretty sure I have nothing positive to say about any of it….Ok, it was short and I like the cover.