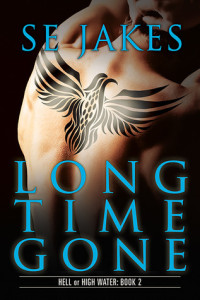 Last week, I reviewed Catch a Ghost, book one of the Hell or High Water series, by S. E. Jakes. This week, the powers that be at Riptide publishing granted me a copy of Long Time Gone through Netgalley.
Description from Goodreads:
When a tornado meets a volcano, nothing is safe.
Soldier of fortune Prophet Drews always worked alone—until Tom Boudreaux became his partner. But when Tom walked away three months ago, ostensibly to keep Prophet safe, Prophet learned the true meaning of being alone. Everyone knows that Prophet, a Navy SEAL turned CIA spook turned mercenary, can look after himself. Which means he must've driven his lover away.
Even with half a world between them, Prophet can't get the man out of his head. Maybe that's why he's in New Orleans in the middle of a hurricane, protecting Tom's aunt. But the only looter around is Tom, bursting back into Prophet's life. It turns out that Prophet's been stuck in Tom's head—and heart—too.
Their explosive reunion gets even hotter when Tom is arrested for murder. As they fight to clear his name, they delve deep into his past, finding enemies among everyone they meet. Staying alive in such a dangerous world is hard enough, but they soon discover that fighting to stay together is the most difficult thing they've ever done.
Review:
Well, I'll just start with the obvious here. Tom and Prophet are hot as hell. They were in book one and they still are in book two. I have no complaint on that front, none. I mean, there is just something about two sexy, dangerous men not only stokin' the fires, but falling hard for one another and showing their softer…cuter side.
Yes, cute is the best word I have for them. (Even if neither character would be pleased with the designation.) When they let their guards down, what results is just plain transformative magic. Suddenly they feel like fragile little boys just looking for a safe place to rest. It's surprisingly evocative.
I also have no real complaints on their repartee. It was ceaselessly amusing, maybe a little too much at times, but not by much. I loved their back and forth banter and smart aleck comments. I also enjoyed meeting Mike and Blue (and to a lesser extent more of Mal and Cillian). I hope they all show up and play bigger roles in future books.
Where the book fell down for me was in the plot. So much focus was put on Tom and Prophet's burgeoning relationship that the mystery felt inconsequential. The hurricane that served to get Prophet to New Orleans in the first place hardly even felt like a squall. It was all just background decorations to give Tom and Prophet a credible scenario to be having sex in. Meh.
I enjoyed the book. I'm up for more. But I'll be reading it for the steamy bits, 'cause that is where the magic is.