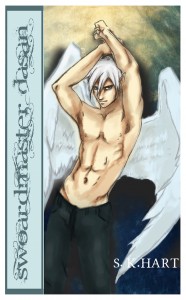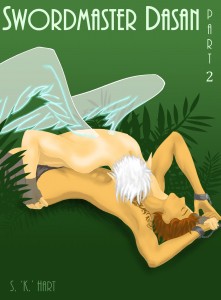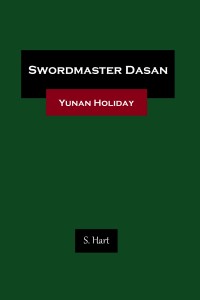 _________________________________________________
Some time ago I grabbed free copies of S. Hart's Swordmaster Dasan short stories. Being the manga addict I am, I adore the covers. I tend to avoid posting about short stories/novellas/novelettes (whatever you want to call them), but these deserve a little attention so I'm making an exception. All three are currently free on  Smashwords and the first is also free on Amazon.
Deciding how to structure this was a little awkward, so just try to bear with me. 
Descriptions:
Book One:
Swordmaster Kyo Dasan is known for both his abilities and bitterness regarding visitors throughout the territory, seemingly comfortable only when alone.

Localem Arada, nicknamed Loki for his tendency to find trouble wherever he goes, finds himself at the mercy of the man he needs totrain him. Despite his reluctance, he agrees to the Swordmaster'soffer regarding alternative means of payment.

Book Two:
It has been three years since Kyo has seen his student when an opportunity to cross paths with him presents itself. He immediatelydiscovers that Loki has gotten into trouble again, and intervenes.
Reviews:
Book One:
I find that I really like Hart's writing and characters. Granted there is little to this story except A LOT of sex, but hey that's what I picked it up for so it's not really anything to complain about. The world building felt a little week, but especially so since there appeared to be some quite detailed races/peoples/societies involved. This book is apparently set in the same universe as Hart's Playing with Tigers series, which I haven't read yet. I get the feeling that a lot of the lacking social details are set out in those Tigers books, because the author has obviously taken the time to develop them even if not seen here. Either way I still found the story easily followable and I adored Loki and Kyo.
I had to drop a star because some of the earlier sex scenes felt almost like rapes even if Loki had consented. I had a hard time relaxing into that. That's just me though. Hart even warns in the introduction that the Swordmaster Dasan books arn't "meant to display safe or proper bondage practices," so I can't claim to have been unprepared. It's fiction afterall. I can appreciate that. But like everyone, I have my own personal limits.
A fun, well-written read.
(As an aside I actually couldn't help by imagine Kyo as the Onime-no-Kyo from Samurai Deeper Kyo. They really look nothing alike, but between the name and the constant cruelties my mind made the leap and wouldn't let it go.)
Book Two:
Yep, it just keeps getting better. Kyo and Loki are wonderful characters. Hart seems to excel at creating situational tension that tugs at the readers heart strings without ever feeling sappy or over played. Often I'm not even certain where it comes from, only that it's there. Here you really feel both Kyo and Loki's frustration, even as they steadfastly refuse to acknowledge it. They simply drive each-other to distraction…and are very very hot together.
Loki does seem to have accomplished A LOT in the three years he was separated from Kyo. He seems to have accrued too much experience in so little time. But he also grew up and returned very much a man…very much the man Kyo needs. If only Kyo would get out of his own way on the subject. I love their dynamic.
The writing here is just as crisp and wonderful as in the previous book. I did notice a minor tendency to reuse stock phrases, but nothing off putting or technically incorrect in any manner. The plot thickens up a bit in this volume too, which is nice. The books ends at a fairly natural point, but there is obviously going to be a third book. (There better be a book three and I'm fairly sure I've seen mention of it somewhere.) I can't wait.
Yunan Holliday:
At barely 20 pages there isn't much to it, but it's a fun little short to tide us over until book three comes out. Plus, I think we should all start celebrating Divainya Rekeshna.