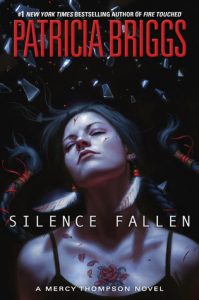 I borrowed Silence Fallen, by Patricia Briggs, from my local library.
Description from Goodreads:
Attacked and abducted in her home territory, Mercy finds herself in the clutches of the most powerful vampire in the world, taken as a weapon to use against alpha werewolf Adam and the ruler of the Tri-Cities vampires. In coyote form, Mercy escapes—only to find herself without money, without clothing, and alone in the heart of Europe… 
 
Unable to contact Adam and the rest of the pack, Mercy has allies to find and enemies to fight, and she needs to figure out which is which. Ancient powers stir, and Mercy must be her agile best to avoid causing a war between vampires and werewolves, and between werewolves and werewolves. And in the heart of the ancient city of Prague, old ghosts rise…
Review;
Sloppy. I really hope that this isn't ANOTHER series that's become so popular that the author has become complacent about it.
I disliked the little, sarcastic comments by Mercy at the start of each chapter. I saw no reason for the story to be told out of chronological order, requiring these comments to break the third wall to explain where they fall in relation to one another. In fact, if seemed to me as if Briggs just couldn't be bothered to clean her timeline up. I found it jarring that the whole book, except one or two small snippets were from either Mercy or Adam's POV. Those sections felt out of place and lazy. And honestly, I just wasn't all that invested in the story as a whole. We didn't get to see much of the pack. Adam and Mercy weren't together, so we didn't get any of their byplay and it never settled into anything truly engaging, compared to past books in the series.
It's still better than a lot of urban fantasy on the market. But no where near as good as early Mercy Thompson books.