Author, Rachel Dixon sent me a copy her novels Slippery Souls and The Forgotten Ones (books 1 & 2 of her Sunray Bay series).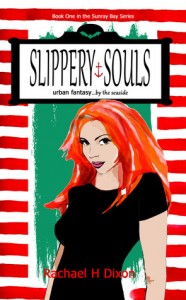 Description from Goodreads:
Libby has hit a bad patch in life, and just when she thinks things can't get any worse she's killed in a car accident alongside her dog Rufus. During their transition to the afterlife's Sunray Bay, Rufus somehow manages to absorb her soul – which, in turn, gives him human-like qualities and renders her soulless. Accompanied by her now talking dog, Libby tries to unravel the mystery of her slippery soul, encountering many setbacks and dilemmas along the way. She has no idea why a group of monster slayers, headed by an ex-convict, are hunting her down, and when she teams up with rogue Peace & Order Maintenance Officer, Grim, she's shocked to discover that there's a mob of disgruntled vampires and a very angry mayor hot on their heels too. Libby has never felt so unpopular, and begins to wonder whether it's possible to die twice in one day…
Review:
I found that I quite enjoyed this read. Not because the plot is so seamlessly stitched together, or because of the complete absence of inconsistencies, or satisfying lack of questions at the end, because all of those aren't actually true. But because despite my ongoing questions, the shaky way the plot holds together, and the almost miraculous conclusion the characters were witty, the dialogue snappy, and the whole adventure fun.
In the end I just didn't care that the antagonist was overcome almost accidentally, or that I have no idea how the person who ran Libby over and started the whole affair was able to leave Sunray bay to do that, or that Vamp, Weres, Zombies and more suddenly came out of nowhere, or that Libby's reaction to death and discovering herself in some strange world with a talking dog was ridiculously blasé. I still enjoyed myself.
Libby and her relentless libido were persistent, sarcastic and just plain funny. Krain managed to feel both evil and exasperated—a surprisingly endearing quality that made me somehow, both, like him and hope for his demise. So did Strickler for that matter. Grim was suitably sexy and Rufus provided comedic relief. Everyone involved is having an extremely bad day and the environment gives the whole atmosphere a grimy, gritty feel.
I've had this one on my TBR list for a while. I put it off again and again, uncertain what to expect. I'm happy to report it's a hit. I'm moving on to book two with high hopes.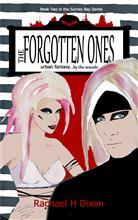 Description from Goodreads:
A long-forgotten-about breed of shape-shifting vampire is emerging from The Grey Dust Bowl. They harbour lots of secrets and they've been around since the times when Sunray Bay was known as the Isle of the Ignoble Dead. Led by a vengeful queen, they feel they've been hiding away for far too long, and now with an unsettling need to feed (and perhaps breed, if they're extra lucky), they'll do whatever they can to quench their desires. Meanwhile, Libby and Grim have taken to the underground during the unyielding conflict between vampires and werewolves. When they in a dvertently discover a zombie slave labour force, Grim is faced with a dilemma that threatens to emotionally cripple him and tear them apart. Libby isn't about give him up easily – but soon she's thrown into a quandary when she discovers what the shape-shifting vampires want… To go back to an earthly plane.
Review:
I'm tempted to say this isn't a book, it's an episode. But I'm afraid that would be interpreted as really negative. I wouldn't mean it to be. Rather it would just be meant as a descriptive statement. You see, The Forgotten Ones doesn't feel like a complete story to me. Granted, I still really liked the writing, the characters, the dialogue, the humour, etc but it has no beginning or end and therefore no middle either–at least not as far as the story is concerned. Obviously there is a numerical middle. 
The book picks up a day or so after the end of Slipper Souls, making SS the beginning of the story.  It then chronicles Grim and Libby's trek toward the Grey Dust Bowl, the Blōd Vamps are introduced, Libby makes a rather startling, and somewhat far out, discover about her abilities and then, a page or so later, the book ends on a bit of a cliffhanger. The issue is that there is never a challenge to overcome, a problem needing solving, a barrier to break through, etc. One would expect the discovery of new magical skills to be the point at which the characters start to move toward such an end, but instead that's where to book ends. Leaving nothing to tapper off into an ending of any sort. 
What's more, the number of threads left open and needing final attention just seem to keep adding up, with no real indication that the author intends to get back to some them. (I really hope I'm wrong about that.) There's still the matter of establishing peace and a new leadership in Sunray Bay, the possible return of the three kings, Morgan's fear of a returning foe, the Queen's plan, Reeve's need for love and premonitions, the hints that Izzy and her mother will come into the story, what Grim actually is, the God and Goddess' drama, the question of Alex being a werewolf, and what Strickler's role is. He played a pretty important part in book one, two really, and it's yet to be explained how or why his actions at the end of book one led to those at the beginning of it. 
So, while I'm really enjoying the reading of Ms. Dixon's story (she is one heck of a comedic writer) I'm left dissatisfied with the lack of conclusion. If I'm honest, there is very little that will prompt me to drop a series faster. Having said that, for those who don't mind their stories drawn out over numerous episodic volumes I highly recommend this series.