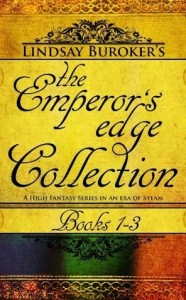 I grabbed book one of Lindsay Burkoer's The Emperor's Edge series off of the KDP free list. Because I enjoyed it, I then purchased the compilation for books two and three. (Though, honestly, at $7.69 I would usually call it too expensive and move on.)
A side note: You know, I wish that when book one of a series is perma-free the compilations could come books 2-4, instead of 1-3. That way I wouldn't always end up with two copies of the first. Wouldn't that be great?
The Emperor's Edge:
Imperial law enforcer Amaranthe Lokdon is good at her job: she can deter thieves and pacify thugs, if not with a blade, then by toppling an eight-foot pile of coffee canisters onto their heads. But when ravaged bodies show up on the waterfront, an arson covers up human sacrifices, and a powerful business coalition plots to kill the emperor, she feels a tad overwhelmed.
Worse, Sicarius, the empire's most notorious assassin, is in town. He's tied in with the chaos somehow, but Amaranthe would be a fool to cross his path. Unfortunately, her superiors order her to hunt him down. Either they have an unprecedented belief in her skills… or someone wants her dead.
I really enjoyed this book. It's not flawless. The incident that sets the whole thing in motion is ridiculously small and therefore the consequences unbelievable and I found some things really quite predictable. However, even with these gripes I just plain had fun with it. The writing is sharp, the dialogue witty, the characters amusing and the world interesting.
I especially liked Amaranthe and Sicarius. I'll admit that the clean-freak, OCD organised woman and the silent killer of a man are pretty cliché character traits, but they are so often used because they're amusing. So I'm going to call them classic instead. I love a strong-willed woman and I have to admit the emotionally distant warrior is one of my favourite character archetypes. Regardless, their repartee worked, as did their tenuous partnership. The rest of the group also contributed to the fun. The way they sniped at one another, but still got the job done was a laugh a minute.
Some books you just love, warts and all. This is one of those books for me. I'll definitely be on the book out for more of Buroker's works and I'm definitely reading book two…now.
Dark Currents:
It's been three months since former enforcer Amaranthe Lokdon and the notorious assassin Sicarius thwarted kidnappers and saved the emperor's life. The problem? Nobody knows they were responsible for this good deed. Worse, they're being blamed for the entire scheme. With enforcers and bounty hunters stalking them, and the emperor nursing a personal hatred for Sicarius, it's going to be hard to earn exoneration. When Amaranthe's team discovers mutilated bodies in the city aqueducts and a mysterious illness incapacitates thousands of citizens, she and Sicarius see an opportunity to solve the mystery and prove their loyalty. But they'll have to defeat vengeful shamans, man-eating predators, and deadly mechanical constructs, all while dodging imperial soldiers who would rather kill them than accept their help. Nobody said exoneration would be easy.
Oh, I'm still just loving this series! I'm not generally a raver, but I'm afraid the crew of the Emperor's Edge makes me squeal a bit like an excited fangirl. I love the writing, the characters, the snark, the world, the slowly budding romance, etc.
It did feel a bit like a 2nd book, in that all the characters and their roles are pre-established so there's little need for a lead in. But the book does have a beginning, middle and END—no cliffhangers here.
I know I usually have more to say about a book, but 'I like it. I like it a lot' is about all I've got for this one. I look forward to the rest of the series and I'm beginning to think I'll be forced to invest in it all.
Deadly Games:
When you've been accused of kidnapping an emperor, and every enforcer in the city wants your head, it's hard to prove yourself an honorable person and even harder to earn an imperial pardon.
That doesn't keep Amaranthe Lokdon and her team of outlaws from trying. When athletes start disappearing from the Imperial Games, they may finally have an opportunity to show the emperor that they're on his side. If she and her comrades can get to the bottom of such a public mystery, they're sure to get the credit.
But plans go awry when Amaranthe's own men start plotting against each other, the new ally she'd hoped to acquire tries to turn her in, and her best fighter—and closest friend—disappears. 
Maybe getting involved wasn't such a good idea after all…
Book three, and I'm still on a high with this series. I'm enjoying all of the characters, especially Sicarius. He's finally starting to open up a little bit. But it's nice how the books are told partially from the POV of a side character—this book being dedicated to Basilard. I didn't feel he got as much attention as Books did in the last book (the last book being dedicated to Books' inner monologue), but it was still nice to hear his inner voice for a while. It's a great way to get to know the cast of The Emperor's Edge.
I do have to admit that, as much as I love the repartee between all the characters it started to feel a little forced here. Like everyone had to be witty all the time, instead of just naturally being that way. But I still laughed at their antics. The book isn't a cliffhanger, but there is a pretty strong lead-in to book four in the epilogue. And I'm off to buy it now…so much for my monthly book budget.