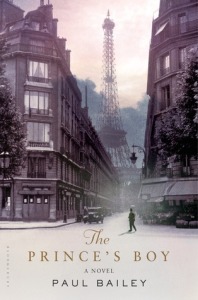 I won an ARC of Paul Bailey's novel, The Prince's Boy from Goodreads.
Description:
In May 1927, nineteen-year-old Dinu Grigorescu, a skinny boy with literary ambitions, is newly arrived in Paris. He has been sent from Bucharest, the city of his childhood, by his wealthy father to embark upon a bohemian adventure and relish the unique pleasures of Parisian life. 
An innocent in a new city, still grieving the sudden loss of his beloved mother Elena seven years earlier, Dinu is encouraged to enjoy la vie de Bohème by his distant cousin, Eduard. But tentatively, secretly, Dinu is drawn to the Bains du Ballon d'Alsace, a notorious establishment rumoured to offer the men of Paris, married or otherwise, who enjoy something different, everything they crave. It is here that he meets Razvan, a fellow Romanian, the adopted child of a man of refinement – a prince's boy – whose stories of Proust and other artists entrance Dinu, and who will become the young man's teacher in the ways of the world. 
At a distance of forty years, and written in London, his refuge from the horrors of Europe's early twentieth-century history, Dinu's memoir of his brief spell in Paris is one of exploration and rediscovery. The love that blossomed that sunlit day in such inauspicious and unromantic surroundings would transcend lust, separation, despair and even death to endure a lifetime.
Review:
In some ways this was a wonderful book, in others it was pompous—trying far too hard to be what it is. In the wonderful column are a host of colourful characters, a strong, abiding love and some great writing.
However, I struggled to really get into the narrative. I found the dialogue almost unbearably stiff. It was purposefully so, for sure, since the characters are mostly of the upper-crust and thus constrained by the dictates and decorum of polite society. But I still found it unnatural to read.
The whole thing felt very much like a poorly done costume drama, set in the mid twenties. It tries so hard to be Paris in the 20s that it just comes off as an archetype of that time and place, rather than a believable story set there. Everyone is fashionably morose, maudlin and mawkish, voguishly liberated, libatious, and lascivious (or not), etc. Alternatively, perhaps it was striving to mimic the gravitas of the literary greats Dinu is so found of reading. But, again, it just felt forced.
I did appreciate that, while there are small joys here, this is an incredibly sad story and Bailey has allowed his characters the freedom to wallow in it. He never gives in to the popular pressure to provide everyone a sacrosanct happy ending. I also found something immensely gratifying in considering how The Prince's gift to his boy was also so very cruel, though Razvan could never regret receiving it. It's a testament to the duplicity of human nature, for sure.
I think that there is a lot to recommend this book to the right reader. I just don't know if I was that reader.