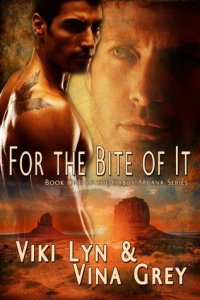 I bought a copy of For The Bite Of It, by Viki Lyn & Vina Grey.
Description from Goodreads:
A vampire, a cupcake, plus one sexy cop, is a recipe for trouble.
VINCENT KAMATEROS is an exiled vampire making a routine living as the owner of a cupcake bakery in Arizona. Until a car with a dead driver crashes through the wall of his shop, bringing after it, All-American, closeted cop, JOHN REEDER. Smitten the instant he sees John, but bound to silence by the Vampire High Council, he can never reveal his true self to John. 
John Reeder can't control his attraction to the sexy Italian baker. But as addictive as the sex is, John can't overcome his fear of rejection for being gay, and open his heart to a man with so many secrets.
Review:
A note before I begin: There are apparently two versions of this book, one from 2011 and one from 2014. I read the newest one, which is said to have a different ending than the first. 
This book was at best OK. It wasn't quite bad, but I can't call it particularly good either. The vast majority of it is about two men who fall in lust/love at first sight and then spend 180+ pages fantasising about one another, while fighting in real life. Thus, they don't get together for a long time and the reader just gets more fantasies. This is not a format that works for me. In fact, I got quite annoyed with it after a while.
This was only one of several problems, however. The men are said to feel things for one another that they've never felt before. But the connection is instant and there isn't any reason given for it. The vampires don't find destined mates or anything like that, which could excuse the mysterious rise of feeling between the two of them, but not previous lovers. If something out of the ordinary happens, I like to know how or why.
Then there are the inconsistencies. For example, Angelo encourages Vincent to "scratch the itch' with John, then he repeatedly tells Vincent he can't have John, then he's daring Vincent to tell John the truth (breaking rules he previously said were the reason Vincent couldn't have John), then he's telling Vincent he's crazy for trying to make a relationship work and refusing to help. Back and forwards. Similarly, John and Vincent are wishy-washy-wishy-washy, changing their minds about each-other constantly.
Worst of all is the attempt to bring a bigger story into the book. Again, the vast majority of the book is John and Vincent lusting over one another, pushing each-other away, and then pulling each-other back again. But slipped in between all of this are little bits of Vincent's pedigree, history and future responsibilities. And this looked to be an interesting story…that isn't developed AT ALL. In fact, every time there was a chapter dedicated to it, it literally (and I'm careful of my use of that word) feels like someone has dropped a chapter from a different book in by mistake. This was both a waste of a good storyline and an annoyance. (I wonder if Viki wrote the romance and Vina wrote the fantasy parts, or visa versa. That might explain it.)
Then there were a number of smallish irritants. For example, John and Vincent repeatedly stated to one another how good the sex between them was. However, they'd never had actual sex. (They finally did at about 98%, but this annoying habit crept in very early in the book.) If the BJ or hand-job, or fingering is good, that's great, and maybe I'm being pedantic, but it's not sex (at least not by erotica standards) and I found the repeated reference to it as such grating.
The editing also seemed to really fall apart for the last 15 or so percent of the book. Both inconsistencies in the plot and missing/misused words increased. (I wonder if this is about the place where the additional ending was added in the new addition.)
Anyhow, a passable read. I'm not sorry to have read it, but I'm not rushing out for more either.