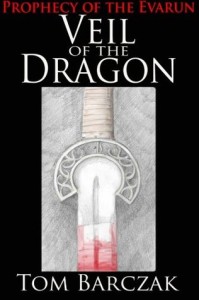 I picked up a copy of Tom Barczak's Veil of the Dragon from the Amazon free list. I chose to read it at this time as it was the book of the month in one the forums I frequent.
Description from Goodreads:
Chaelus, Roan Lord of the House of Malius is raised from the dead by the hand of a child. His kingdom stolen by the evil dragon, Gorond, Chaelus' only hope to reclaim his throne rests with the child knight who saved him, the heretical order to which the child belongs, and the truth about Chaelus which they alone protect.
Review:
This is a really hard book for me to review, because I'm of two very different minds about it. It is beautifully written. The use of language is almost awe-inspiring. It's just pain pretty and its slow, measured recitation gives it an eerie, heavy feeling of mystical gravitas.
However, that same atmospheric writing, no matter how beautifully the words are strung together, comes across as emotionally flat and provides only an anorexic outline of what is actually happening in the story. In the beginning, it took me a long time to figure out what the story was about and even then I never felt wholly immersed in it.
I decided at some point that it felt very Biblical. Not only because there is a very obvious Christian influence (which there is, lots and lots of similarities to the Jesus story…well, I suppose the model could have been Osiris, but as the authors American I'm guessing not) but also in the way that the book gives very little deep details and leaves a lot open to interpretation.
I gathered almost nothing of the characters histories, motivations, or personalities as well as the world's circumstances, peoples, cultures, or anything else. The scope of the telling is very narrow and as a result, a lot is left out. And again, it's lyrical and pleasant to read, but it's a style that annoys the living daylights out of me because I need that depth to sink my teeth into. I found reading this comparable to reading The Psalms. It related information to me in a pleasant matter, but that's not quite the same as providing me an engrossing story.
That isn't to say the story isn't an interesting one. It is. It's about redemption and recognising both the potential for grace and the human susceptibility the shadows that same light casts within each of us. It's an interesting idea. And while I don't like the way it's executed, as a personal preference, it accomplishes what it apparently set out to do. So, I'm happy to recommend it to fellow readers, but I'm also a bit glad to be done with it.