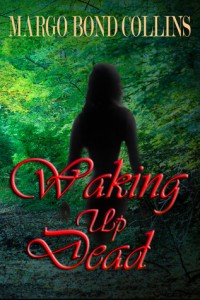 Author, Margo Bond Collins sent me a copy of her novel Waking Up Dead.
Description from Goodreads:
When Dallas resident Callie Taylor died young, she expected to go to Heaven, or maybe Hell. Instead, she met her fate early thanks to a creep with a knife and a mommy complex. Now she's witnessed another murder, and she's not about to let this one go. She's determined to help solve it before an innocent man goes to prison. And to answer the biggest question of all: why the hell did she wake up in Alabama?
Review:
The cover of this book doesn't really do it justice, since it doesn't give you much an idea of what you're getting into with the story. Except for an attempted rape scene, which obviously isn't, the whole thing is really cute. If the main character wasn't a ghost, I'd call this a Cosy Mystery. Is there such thing as a Cosy Supernatural Mystery?
Callie, Ashara and Maw-Maw are all pleasantly sarcastic. Stephen provides a good grounding for the group. The mystery kept me guessing for a long time and the writing is crisp, clean and well edited. I read the whole thing in an evening and enjoyed every moment of it.
I only have one real complaint, but it's oddly also wrapped up in an uncomfortable compliment. Race plays a role in this novel. America and Americans often walk on eggshells where this is concerned. With our history, it's hard not to. Even non-racists are often awkwardly aware of their white-privilege and overly conscientious about trying not to do anything to even inadvertently offend someone. Despite best intentions, a lot of the country hasn't reached the point that they can be comfortably unaware. (It's questionable that they should be able to, given that we haven't reached true parity yet.) I love that as a white author Ms. Collins didn't shy away from the subject or the horrible history of it. But at times Ashara and Maw-Maw's dialogue felt very much like what it is, written by a white woman in the imagined tone of a black woman. Ashara and Maw-Maw felt too aware of themselves as African American and Callie as white. They reminded Callie, and therefore the reader, of it constantly, compromising its ability to feel natural. Don't get me wrong, at no time did this feel offensive or as if the author meant any disrespect. It just didn't feel real either.
All in all, though, I'd highly recommend this novel to anyone looking for a cute, feel-good book. If it weren't early February, I'd call it a great beach read.