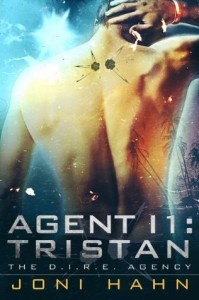 I downloaded Joni Hahn's Agent I1: Tristan (The D.I.R.E. Agency #1) from the Amazon free list. At the time of posting, it is still free.
Description from Goodreads:
Credentials:
• Second generation Former Navy SEAL
• DIRE's top agent
Enhancements:
• Teleportation
• Invisibility
Raised in the art of warfare, Former Navy SEAL, Tristan Jacobs, has always been a force to reckon with. Now that D.I.R.E. has successfully implemented his scientific enhancements, he's a walking weapon. Unstoppable, as long as he stays focused. No relationships.
When ex-BUD/S teammate, Aidan Monroe, interrupts his long-awaited sabbatical to call in a favor, Tristan reluctantly fills the simple request: take out his sister's fiancé.
One problem: Rachel Monroe – smokin' hot, kind-hearted, and in desperate need of a protector. After the best sex of his life, Tristan's afraid unstoppable is just a memory. Knowing Aidan's temper, Tristan could be, too.
Rachel Monroe had a plan to help her mother. Her brother ruined everything when his gorgeous, super-agent friend teleported her to some forsaken island – and his bed. She's drawn to him despite the fact he's a professional agent, much like the people suspected of killing her father. 
Now, his enemies have come to her small town, looking for vengeance. 
Have they found more than they bargained for? Or, does the past have its own retribution in mind?
Review:
Here's the perfect way to describe the forgetableness of this book. Last night I finished a book and went to bed, with the intention of reviewing it this morning. This morning, I took my Kindle to the gym and started this book while on the stationary bike. When I got home, I reviewed the book I finished last-night and then sat down to look at my Kindle Collections to pick out what to read next, completely forgetting that I had started and read 30% of this book already. It made that little of an impression. When I finally remembered having already started it, I sat down to finish it up.
Now, don't misunderstand me. I'm not necessarily saying it was a bad book. I'm sure we've all read those books that we don't love, but we don't hate either. They're like cotton candy—a shot of sweetness that you can only savour for a moment and then leaves very little memory of itself. Yep, that's what this book was like. 
Seeing the emotionless Tristan become attached to someone was nice. The fact that Rachel wasn't a complete pushover was appreciable. Her ultra-protective brother was fun. There were plenty of 'aww' moments and the sex was pretty mild. 
However, quite a lot of the plot was just skimmed over or just plain unbelievable. For example, I'm still unsure why Aidan called Tristan to guard Rachel in the first place, other than that he disliked her fiancé. That seems a little extreme. As far as I can tell there was no actual risk to Rachel that Aidan would have been trying to protect her against. 
There is also a lot of history between the older generation of characters that isn't explored. The science isn't well explained. And the romance is lightning fast. It isn't insta-love, but within a matter of a day or so Tristan and Rachel fall madly in love and are willing to essentially throw their established lives away to be together. It too seems a bit extreme. 
For a quick, fluffy read, this is worth picking up. If you're looking for great literature….um, it probably won't fit the bill. It does actually end, though. Yes, that's right, no cliffhanger!