Technically, the blog is still on hiatus, since I'm currently in England (and will be going to China at the end of the week). But I didn't want to miss the chance to recap the insanity that was 2019 and look forward to 2020. Though the post will likely be on the brief side this year.
I'll start with the basics. I read 208 books in 2019. This is down from past years, but still a satisfying number. 208 books means that I completed my Goodreads challenge, in which I set a goal of 200 books. No complaints on that front.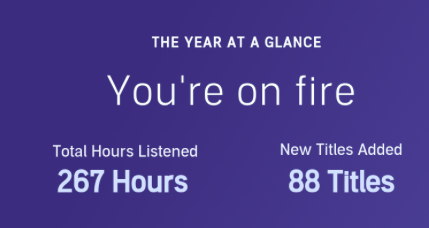 I do have to be honest though. I wouldn't have made that goal if it weren't for audiobooks. Last year, I really started listening to book in bulk for the first time and I continued into this year.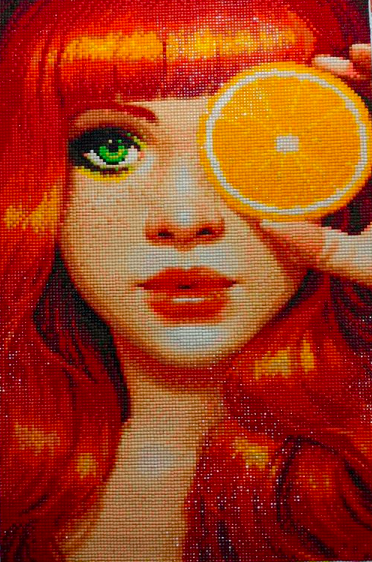 What I like to do is listen to an audio book while working on diamond paintings. (This is my newest obsession.) I find it really relaxing and I have been flying through both audiobooks and diamond paintings.
I didn't set a lot of other challenges for 2019. As always, I did an alphabet challenge. This means I wanted to read a book by an author who's last name starts with every letter of the alphabet. This challenge almost manages itself, except for I, Q, X and Z. These I usually have to make a special effort to find and read. In fact, my X book was the absolute last book I read this year. I did complete it again this year. So, success.
The last two challenges are ones I actually set in 2018 and have been working on…largely failing at…in 2019. First, I set aside a stack of smallish books to read. However, I keep adding to the stack. So, it never actually seems to diminish. In my head, this one eventually just changed to 'try and read more physical books.'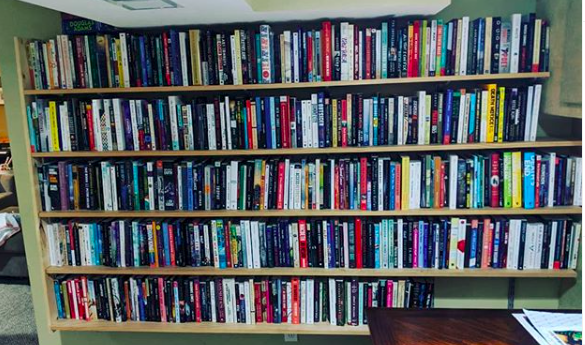 For too long my book shelves were double lined and still overflowing. However, this year we rearranged the house. My office became a child's room and the finished basement (which the children had been sharing as a bedroom) became my office. This means I got a lot more shelf space. So, while I wasn't all that successful in reading them down, I was successful in finally making my bookshelves manageable.
Lastly, in 2018 it came to my attention (as well as most everyone in my corner of twitter) how rarely characters of color are seen on book covers, even when the character themselves is a person of color in the book. So, while I couldn't afford to buy all the books I can find with non-white characters on the cover, I did go through those that I own and set a goal to read and review them, supporting the authors in this manner. I wrote myself a blog post with all the titles, planning to chip away at the list throughout the year.
I later somewhat regretted doing this, because I decided it was performative. But I also felt like deleting the post would be giving up and maybe hiding a misstep. I still have really mixed feelings about it, especially since I have largely failed…and failed in multiple layers. First, I simply failed to check my list and choose books from it, instead of what was currently on my kindle. And when I did I often didn't find anything of interest. (I picked up so many freebie YA books and I'm so burned on YA books. Though that's not the only reason, of course.)
I was a bit better about choose books with characters of color on the cover while at the library and I briefly added them to the list. But that was too much like, "look what I've done." So, I quickly stopped adding and decided (again) to try and whittle down the initial list. But that too simply fell by the wayside as time went by.
At this point, I have no option but to admit that, despite my best intention, I have failed at this challenge. I'll carry it over into 2020 and hope to do better.

Now, for the hardest part of this post (even harder than admitting failure), choosing my best of 2019. I almost decided to skip it this year, using the I'm on vacation excuse. But I'm going to suffer through the decision making. Of the 208 books I read this year, I most enjoyed (in no order) The Last Sun, The Ballad of Black Tom, The Bones Beneath My Skin, Girl Waits With Gun, Anatomy of a Miracle, and The Haunting of Tram Car 015. Yes, 6 is an odd number to choose. But I couldn't make myself decide which one to drop to make 'top five' and I didn't have enough notable winners to make a 'top ten.'
The interesting thing about this list is that it is made up exclusively of books I expected to love or expected not to and was surprised that I did; no middle ground. Anything published by Tor (The ballad of Black Tom and The Haunting of Tram Car 015) or written by TJ Klune (The Bones Beneath My Skin) I know I'll love. But The Last Sun I read after several DNF books and a couple two-star reads. So, it was a welcome relief to hit a winner. I didn't expect much from it initially though, since I'd never read anything by K.D. Edwards before. And both Girl Waits With Gun and Anatomy of a Miracle were books I won and picked up in my attempt to read more of my physical books. I didn't really expect to like them too much, but ended up loving them.
I also find it interesting that 5 our of 6 are written by men, considering I read far more female authors and tend to like their writing more. It just goes to show you never can guess on January 1st what the year might bring.

Looking forward to 2020, I think I'll continue the theme of fewer challenges than in the past. In fact, I think I'll do the same as 2019. I always enjoy the alphabet challenge, the Goodreads Challenge is how I keep track of what I read in general (and I think I'll stick with 200 books), and I still want to read more of the physical books that I already own and I still want to cross off the books I initially listed in my Characters of Color challenge.
That just leaves one last thing to say.