The Scouts, by Kasia Bacon, was promoed on Sadie's Spotlight and the author sent me a copy for review. It was also featured over on Sadie's Spotlight.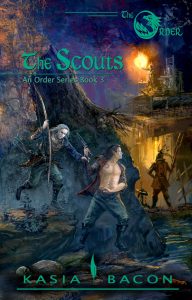 Lochan and Ervyn—an assassin and a sharpshooter—remain in service to the queen as part of an elite reconnaissance unit.
The Scouts are ghostlike. Elusive. Deadly.
They strike at enemies of the Crown without mercy. They get the job done, leaving no loose ends or witnesses. When Magic Supremacists threaten the safety of Elven Country, they do their duty—whatever it takes.
Lochan and Ervyn belong to each other, but will serving together as comrades-in-arms strengthen their bond as lovers or tear them apart?

The Scouts is the third book in the Order Series. In this volume, Ervyn loses control, Lochan stops fighting his feelings and Verhan… well, remains Verhan.

Oh, I have such a fraught relationship with Bacon's writing. I love her characters and jovially informal narrative style. But I'm a dedicated binger. Be it reading a novel in a night or watching an entire season of a show on Netflix, I want all of a story. And Bacon's publications are far closer to a serial than a series, in my estimation, which I find incredibly frustrating.
I say all of that because it would be unfair to judge my review of her works without factoring in this strong preference on my part. But I do still keep coming back, even when I know what to expect. Because these short works are also full of the feels and, as I said, I like the characters and writing style. I'll add world too. I find the world, with all it's Elvin races and cultural norms intriguing.
I did find the occasional phrase felt anachronistic and there are quite a lot of characters for such a short book. But those are my only critiques. No doubt, when next Bacon publishes, I'll be in in line to read it too.