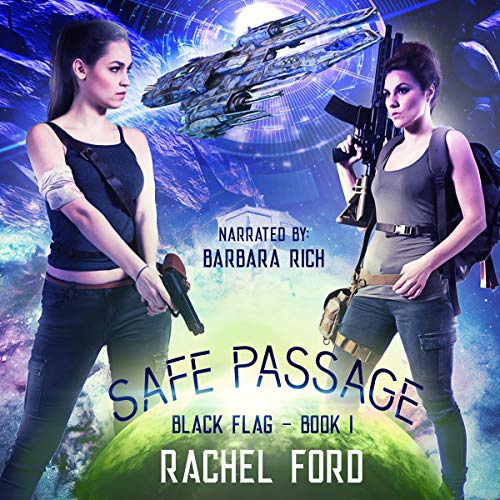 I received an Audible code for a review copy of Safe Passage, by Rachel Ford.
Description from Goodreads:
Go big or go home. For privateer Captain Magdalene Landon, it's all about going big. For Kay Ellis, it's about getting home. Together, they're about to architect the most daring heist in the galaxy. Kay knows too much. She knows it's a matter of time before a Conglomerate hitman finds her. She's desperate for safe passage back to Union space. Then Magdalene shows up, promising a way home in exchange for that information. It's a risky bet, but Kay is out of options. So she strikes a deal: the heist of the century for her freedom.Kay is playing a dangerous game, and she knows it. She's made herself Enemy Number One of the Conglomerate. She's relying on privateers for her safety. It's a fool's game. But the worst part is, her fool's heart is starting to warm to the enigmatic captain. And that's a risk for which she hadn't planned.
Review:
I can't say I enjoyed this book much. I didn't find much that grabbed me. I felt the world wasn't well developed, the romance was abrupt, the casual use of attempted heterosexual rape as motivation unoriginal (especially in a lesbian romance), and the characters were too Mary Sue like. Here's an example, they kept people alive when they shouldn't have. It felt like an artificial mechanism to move the plot along AND that the just author didn't want them to seem like bad guys, especially considering those same characters end up dead anyway. It seemed inconsistent this insistence on 'doing the right thing' when they are basically thieves (and have already killed others).
This tendency to use obvious and inelegant artificial events for plot progression was also present in the romance. The characters got together, then one broke it off for sudden and stupid reasons. Then later apologized so they could get back together just as abruptly. You see it all coming a mile away.
Similarly, all the twists are as obvious as the sun. You know from very early on what is going to happen and when. 
The writing itself is fine, minus a tendency for characters to call Kay by name too often. And the narration too…for the most part. I actually greatly disliked how Rich voiced the characters. But that's a matter of taste not quality. 
All in all, I think this was just a poorly matched book for me. I went in with high hopes. I love sci-fi romance, but this one wasn't a winner for me.