I borrowed audiobook copies of Broken Moon and Blood Magic, by Laken Cane, through Hoopla.
---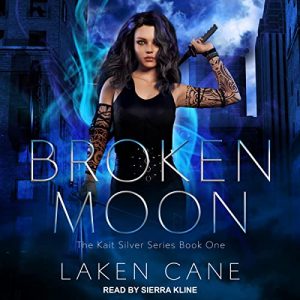 About the book:
I'm a wolf shifter… who can't shift.
Twelve years ago, I was hobbled by my alpha, cast out of my pack, and forced into an unfriendly world without any protection.
But I'm not exactly helpless.
Despite being unable to shift, I have talents the others don't have. I can see the spirits of dead people, for one. And I have a knack for fighting rogue supernaturals.
My ex-alpha will never let me back in, but there's another alpha in the city.
Something has been killing his wolves, and he wants me to destroy it before it takes another one. He'll triple my going rate–but that's not the thing that makes me agree to help him.
He says he can free my wolf.
It's not possible, but…
What if it is?
I'll help him, either way. Monster hunting is what I do, and if there's a monster killing wolves, I will stop it. Because those two warring alphas might believe the city is theirs, but this is my territory.
The city embraced me when the packs wouldn't have me, and I will protect it–with or without my wolf.

I quite enjoyed this. Those familiar with the urban fantasy genre won't find too much new here. But those of us who are familiar with the urban fantasy genre generally read it because we enjoy it and don't mind a little more of the same. And this is my experience with Broken Moon. I recognized all of the elements that it is made of, but I savored them all the same.
I liked Kait. She's a strong lead. I did occasionally feel like she was just a little too capable, triumphing against great odds when maybe she shouldn't have been able to. I also felt like Cane stepped away from some of the most important fight scenes—creating a distance in their writing—rather than allow the reader into the thick of it and this removed quite a bit of the tension.
There's a possible future love interest here. But there is no romance in the book. So, if you like your UF romance free, this is a safe book to pick up.
Sierra Kline also did a nice job with the narration.
---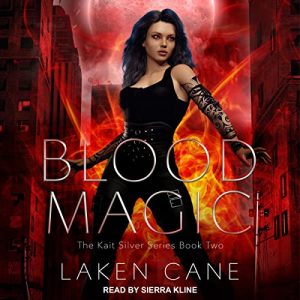 About the book:
My new alpha did the impossible. He freed my hobbled wolf.
And though I've craved a pack and an alpha since I was a rejected kid, I rebel against being anything less than his equal–even as my wolf worships the very ground he walks on. It makes for an interesting dynamic.
Flung headfirst into the supernaturals' world, I am no longer a lonely, agonized outcast running from the moon. My power is growing, I have amazing people around me, and the grateful mayor has set me up with an office and a legitimate job.
For a minute, everything is quiet. Too quiet. Even the demon seems to have disappeared. And all that peace is just a little unsettling.
But then a human hires me to go after the vampires–specifically the county master–and my world explodes into chaos.
Good thing I like chaos.
But when the demon returns with a vengeance, the council makes me an offer I don't want to refuse, and an infamous and scary as hell hunter blows into my life, the peace and quiet starts looking pretty damn good…


I have to admit that, while I still liked this, I didn't like it quite as much as book one, though it is an arguably more robust book. Kait is definitely coming into her own and strengthening her place in society. But her tendency to be the strongest badass around is also strengthening and eventually, from a reader's perspective, this becomes redundant. There's no real tension left if she's so strong she can easily overcome even the steepest odds.
I also kind of feel like she's creating a harem. Like book one, there basically isn't any romance in the book (though you know who she'd choose if there were). But she seems to be collecting useful, powerful men (but only men, with the noted exception of her mother and roommate). And I'm starting to wonder if Cane isn't falling into the age-old literary trap of creating interesting fictional worlds, but still not being able to imagine them full of and equal number interesting, three dimensional women as men.
I did feel some of the conclusions were a little anticlimactic—the end of the demon from book one especially. Regardless, if a third book had been available to me through Hoopla, I'd have continued the series (and still might at some future point). I like Kait. I like her found family. I'm interested in how some of the dangling plot lines conclude. And Sierra Kline again did a good job with the audio.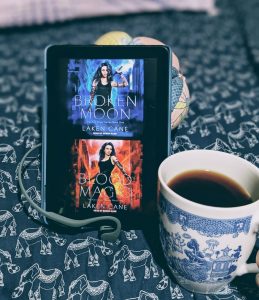 ---
Other Reviews: