I received a copy of Harper A. Brooks' Tiger Claimed for review from Lady Amber's Reviews & PR. It was promoed on Sadie's Spotlight. But more importantly, it is kind of part of my Wolf Marked Reading Challenge (where I'm reading three books titled Wolf Marked); in the sense that my third, and last, Wolf Marked book is second in the Shifters Unleased series, with Tiger Claimed being book one. I was told the books stand alone and, in theory, that means I didn't need to read Tiger Claimed before diving into Wolf Marked. But I don't always trust that to be true. So, I went head and read Tiger Claimed before my final Wolf Marked. And while I would normally review them together, I'm posting reviews separately since I don't actually have a copy of Brooks' Wolf Marked in hand yet (though I expect to soon). I hope all of that makes as much sense on screen as it does in my head!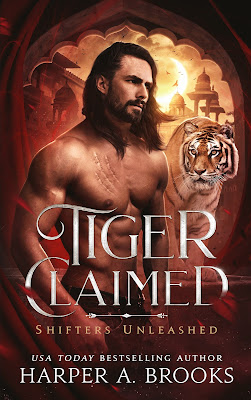 Centuries of hate and a legendary love to overcome it all…
One untimely trip to the marketplace makes Cara, a panther shifter, the prime suspect in the king's murder. The tiger prince is set on seeing her rot in a prison cell, but she'll do anything to keep her family from starving. Even agree to be imprisoned by the handsome tiger, who's also her enemy.
Prince Kael is determined to claim vengeance for his father's murder. He thought he could put his vendetta aside for the ceremonial Hunt, but one whiff of the panther suspect, and his inner tiger becomes unleashed. But in a cruel twist of fate, the magnetic bond he feels with Cara is one he can't deny. And suddenly, he aches to claim her as his own.
The hatred between tigers and panthers is all their people know. If Kael and Cara follow their hearts, it could mean treason and death. Will they be blinded by the prejudice and sorrow of their pasts or will love finally reign free?

This was fluff—short on plot, depth and world development, high on drama and feels. But sometimes a little fluff is what a body needs. I liked both Cara and Kael. Cara was a strong heroine, self-sacrificing and up front in her beliefs. Kael was an endearing hero, large and imposing but no alpha-a-hole. The reader sees his insecurities and very real desire to do the right thing. True, the 'love' is all but instant. The couple goes from strangers…less than strangers (enemies really) to eternal, bonded, loving mates in about two days. And then they manage to undo the snarls of hated, self interest, and racism in seemingly just about as much time. So, maybe there's not anything approaching believably here. But Brooks does make you feel for the couple and root for their success all the same. Lastly, mine was a ARC copy and might not have had it's final copy edit, so I can't comment on editing, but the writing is quite readable. I'm not disappointed to be committed to reading book two.