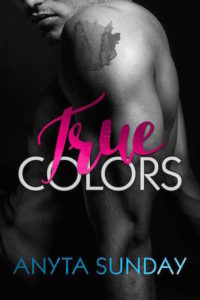 I received a copy of True Colors, by Anyta Sunday from Netgalley.
Description from Goodreads:
Oskar used to be Marco's best friend. His everything. His sunshine yellow.
But that was before. Before Marco stopped being a hot jock. Before he learned to live with scars and pain. And before Oskar tore their friendship apart.
Now the boy next door has returned home, determined to rekindle his friendship with Marco, and Marco's more afraid than ever. Afraid of getting hurt. Afraid of being humiliated.
Afraid of falling in love. 
Can Oskar find a way through Marco's fear, back into his heart?
Review:  Mildly spoilery
This was a very sweet second chances romance. I liked that it was a slow burn and both characters were just lovely and sweet. I could relate to Marco's self-consciousness and Oskar's guilt. The sex is hot, without being porny and I liked the family involvement.
But I had a few problems too. The biggest one being that, though I totally get that what Oskar said was traumatizing to Marco, as well as the self-sabotaging aspect of the event, but they had been best friends for nine years. I don't think it would have been enough to suddenly (and I mean cold turkey) throw the friendship out the window.
Additionally, I couldn't fathom the logistics of it. The book reads like the event happened and they never saw each-other again. For example, Oskar's nose was broken the next day and years later, when they meet again, Oskar wondered how it happened. But they lived next door to one another. Their bedroom windows faced one another. Their families hung out. Marco was a second brother to Oskar's sister and basically mentored her. So, how exactly did they simply never speak again? How did they manage to never find themselves alone together with Oskar apologizing, Marco accepting and both moving on in one way or another? It stretched my suspension of belief too far.
Similarly, there's a bully from the past that shows up. Turns out he's matured out of being a dick and sought out one of the characters to apologize. The one that moved away, I might add. So, why only the one and not the other, the one that stayed in town and was both more easily accessed and more grievously harmed?
I had a little trouble following Marco's sudden turn around too. I mean, he had to stop hating Oskar at some point in order for the book to progress, but it felt very sudden. And this after I'd spent most of the book wondering how both families seemed to not know what happened between the boys. Or, if they did, how they could be so heartless and cruel as to so blithely force Marco together with someone who hurt him so badly. So, either they were all blind or hard-hearted or the author just hoped the reader wouldn't look too closely at this point.
Lastly, while it's interesting that the book was set in Berlin, Germany, honestly, it could have been New Brunswick or Nashville for all the difference the setting made to the story. While I'd have hated for the author to throw in a whole lot of German stereotypes, the book and its characters felt very American. If not for the city names I would have NEVER known it wasn't set in some nameless American city.
I mostly loved this. I thought the writing was lovely and the pairing sweet. I also had no problem following it, despite it being a sequel. (In fact, I didn't know it was a sequel until I finished it and looked on GR to review it.) I'll definitely be reading more of Sunday's writing, but I thought this one had some holes in it, leaving me with a few too many questions.