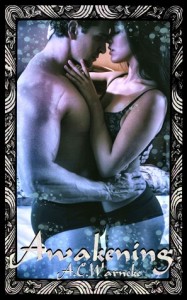 I grabbed a copy of A.C. Warneke's Awakening from the Amazon KDP list.
Description from Goodreads:
THE QUEEN HAS BEEN DEAD FOR THOUSANDS OF YEARS
IN A MOMENT OF FIERCE PASSION…
Celeste Hamilton is having one last adventure before her real life begins: a once-in-a-lifetime trip to Europe with her best friend. On her last days in Paris she meets the mysterious Adamanteros Vespari and he makes her feel reckless. She comes alive beneath Adam's touch, burning for his possession.
ADAM MAKES A FATAL MISTAKE…
Her craving for Adam threatens to consume her and Celeste knows she cannot stay or she'll cease to exist. Slipping out of his arms in the middle of the night, she makes her escape before she loses herself in him completely. But the world she returns to is no longer familiar and her friends aren't what they seem.
AND AWAKENS SOMETHING DEEP WITHIN CELESTE…
When Adam comes back into her life she finds that she was lost before she was even born and with his she is finally found.
LONG LIVE THE QUEEN
Review:
Awakening was an fun enough PNR read and a slightly off centre take on the whole vampire lore. (The Apocritae aren't actually supposed to be vampires, but close enough.) Warneke created an interesting dilemma, threw out a fairly massive red herring, and actually wrapped the book up before the end–something that seems to be becoming a rarity.
I quite liked a lot of the characters. I especially liked Auberon. I felt really wretched for him. I have no doubt the payoff will come in the next book, Reawakening, and I'm fairly confident that I know how that will happen. I just wish someone would drop the hint to him. Seeing him suffer so nobly was almost painful. Oddly, Adam and Celeste were probably my two least liked characters in the book. They were far too wrapped up in one another for there to be much room left over for anything else. Their meeting was a stunning example of insta-love/lust and so there wasn't really any need to get to know each other, so the reader didn't really get to know either one either. On top of that I'm not really a bit fan of literary hearts and flowers, so their and the narrators constant reminders of how in love they were started to tick me off. I got it and could have done without being reminded of it 15 thousand more times.
I do have to say I find it unlikely that Celeste would have really triumphed. I don't want to post a spoiler, but suffice it to say that her opponent, the overall baddie, could have and really should have killed her at any time. Celeste after all was much weaker, untrained, and far too naive. But like so many super-villians, pride and the need to talk until the end drug the whole thing out far longer than was realistic.
Awakening is apparently a sequel to Blight, but I didn't know that until after I had finished this one. Having read Blight might have given me a clearer understanding of the the Apocritae society better. I had no problem following the plot, but until I realised there had been a previous book I intended to comment that the basic world-building seeming a little light. Despite not reading the prequel I still enjoyed the book. It seemed pretty well written.