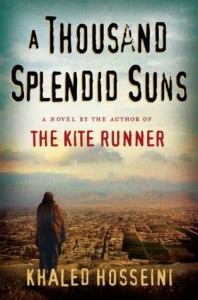 I picked up a copy of Khaled Hosseini's A Thousand Splendid Suns from a used bookstore. 
Description from Goodreads:
Born a generation apart and with very different ideas about love and family, Mariam and Laila are two women brought jarringly together by war, by loss and by fate. As they endure the ever escalating dangers around them-in their home as well as in the streets of Kabul-they come to form a bond that makes them both sisters and mother-daughter to each other, and that will ultimately alter the course not just of their own lives but of the next generation. With heart-wrenching power and suspense, Hosseini shows how a woman's love for her family can move her to shocking and heroic acts of self-sacrifice, and that in the end it is love, or even the memory of love, that is often the key to survival.
Review:
This was not a winner for me. Yes, I get it. All Afghan men are cruel, power-hungry monsters who lord over their wives and all Afghan women are abused victims who are only beautiful in their capacity for sacrifice. (See, I've saved you from having to read the book now.) 

If I was a conspiracy theorist, I might call this anti-Afghanistan propaganda. I'm not a conspiracy theorist. I don't actually think this is anti-Afghanistan propaganda. But, with the war and all, publishers don't seem to be trying paint Afghanistan in even a neutral light. Seemingly every recent popular book concerning the territory has this same theme. That makes reading this book an exercise in redundancy. I did not enjoy it and it felt incredibly arrogant to me. I don't care if the author was born (not raised, mind you, but at least born) in Kabul. The whole thing still felt like arrogant judgment against a people who have already had to weather one hell of a storm. 

Even worse, in its attempt to be so quintessentially tragic it was also utterly predictable. All you ever had to do was think what the worst thing that could happen next was and there you had it. Sometimes you didn't even had to do that, the trajectory of the plot-line was so blatantly obvious that it was practically written in neon.