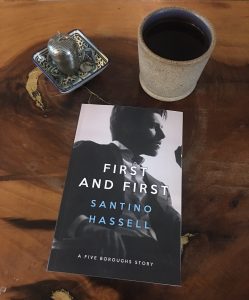 I purchased a copy of Santino Hassell's First and First from the publisher, Dreamspinner.
Description from Goodreads:
Caleb Stone was raised on the Upper East Side, where wealth and lineage reigns, and "alternative lifestyles" are hidden. It took him years to come out to his family, but he's still stuck in the stranglehold of their expectations. Caleb knows he has to build his confidence and shake things up, but he doesn't know how… until Oliver Buckley enters the picture.
Oli is everything Caleb isn't—risk-taking, provocative, and fiercely independent. Disowned by his family, Oli has made his own way in the world and is beholden to no one. After a chance encounter on New Year's Eve, Caleb is smitten.
As Caleb sheds the insecurities that have held him back for years, he makes bold steps toward changing his career and escaping years of sexual repression. But for Caleb to take full control of his life, he has to be brave enough to confront his feelings and trust Oli with his heart.
Review:
I have to admit this wasn't my favorite of the series. That isn't to say I didn't like it, of course I did. I seem to like everything Hassell writes. But this one didn't resonate with me as well as the others did. Maybe because it moved away from the blue collar crowd I loved so much.
Let me be clear, I loved Oli and Caleb and, as always, I love Hassell's prose. But this one felt a little off to me. But off in a way I seem to always find with Hassell's books. I so often can see the framing in the books or the pointed messages he writes his books around. Even when I agree with them, I'm usually put off by their being so obvious.
I noticed a number of recent (to the time of writing) internet dramas leaking into the book, condom policing, heteronormative and monogamous expectations and such. And while I like seeing authors thumb their nose at such things, I had a couple issues here. First, I suppose if I hadn't seen the GR debate about prophylactic politics in reviews of Hassell's earlier book, I wouldn't be bothered to see the f' you to the condom police here. But as it is, I did and I had to wonder if this wasn't a more pointed slight. Do I agree there is a problematic relationship between female readers and expectations condom usage in m/m novels as opposed to m/f novels? Hell yes, and I respect to Hassell for taking it on. But I also don't want to imagine one of my favorite authors flipping off his readers. Maybe I'm wrong. I sure hope so.
Second, I loved that this book presented viable non-heteronormative and non-monogomous relationships. But given that the whole book did just that and gave us one partner who was not initially interested in monogamy and another who seemed interested in exploring group play at least a little, I thought that the ending was a bit of a cop out. Like Hassell wrote the whole book intending to give Oli and Caleb a HEA much like Aiden and Jace's, but then had to bow to the expectations of the romance readership. I'm not saying that's what happened. How would I know? But that's how it felt to me. Personally, I thought the ending both rushed and not true to the characters as they'd been written to that point.
Again, I liked the book. I've already read the 4th one and plan to read the 5th one. Hassell writes wonderfully and his characters are always wonderfully fleshed out. But this one didn't light me up like some of his other books.
---
What I'm drinking: Wuyi Olong, which is described by Traveling Tea, where I got it, as a "Dark amber liquor with notes of raisin and honeysuckle." I don't know about that, but it's pretty good.