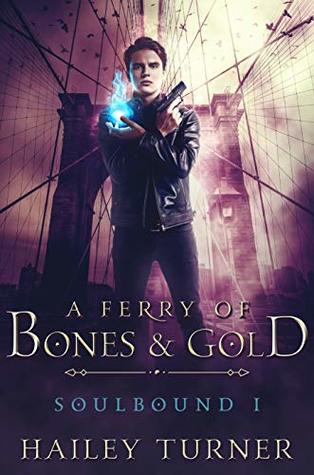 I picked up a copy of A Ferry Of Bones And Gold, Souldbound #1, by Hailey Turner on Amazon.

When the gods come calling, you don't get to say no.
Patrick Collins is three years into a career as a special agent for the Supernatural Operations Agency when the gods come calling to collect a soul debt he owes them. An immortal has gone missing in New York City and bodies are showing up in the wake of demon-led ritual killings that Patrick recognizes all too easily from his nightmares.
Unable to walk away, Patrick finds himself once again facing off against mercenary magic users belonging to the Dominion Sect. Standing his ground alone has never been a winning option in Patrick's experience, but it's been years since he's had a partner he could trust.
Looking for allies in all the wrong places, Patrick discovers the Dominion Sect's next target is the same werewolf the Fates themselves have thrown into his path. Patrick has been inexplicably attracted to the man from their first meeting, but desire has no place in war. That doesn't stop Patrick from wanting what he shouldn't have. Jonothon de Vere is gorgeous, dangerous, and nothing but trouble—to the case, to the fight against every hell, and ultimately, to Patrick's heart and soul.
In the end, all debts must be paid, and Patrick can only do what he does best—cheat death.

I generally enjoyed this a lot, except that it REALLY felt like it wasn't the first book in a series. Up until the very end, I was wanting to check and re-check that I was in fact reading the first book (other than a 13-page prequel). That uncertainty chipped away at some of my love for the book because I felt a little thrown into the middle and lost. But outside of that, I liked both the main characters, thought the plot engaging, the romance touching, the writing sharp, and the series, as a whole, worth pursuing. I'll be looking for more of the Soulbound series and Turner's writing.