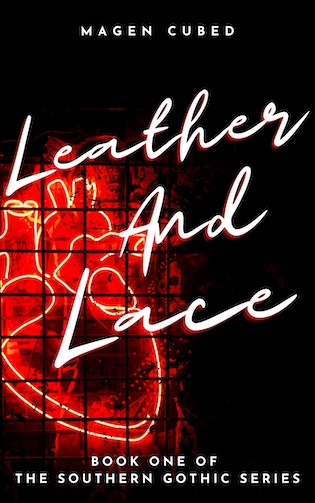 I did a cover reveal for Magen Cubed's Leather and Lace over on Sadie's spotlight. I thought it looked interesting. So, later, when I saw it on Netgalley I requested a copy.

Falling in love with a vampire bites—and sometimes loving a human bites back.
Dorian Villeneuve is an unlucky vampire from the slums of Devil's Row. He makes ends meet for himself and his emotional support Chihuahua by working sleazy bars and nightclubs, doing what it takes to get by. Cash Leroy is a monster hunter from East Texas with a golden voice and an unrivaled devotion to Stevie Nicks. Hunting does not leave time for friends, let alone love.
When their paths cross during a bloody run-in with the vampire mob, Cash upends Dorian's life—and takes Dorian under his wing to teach how to hunt monsters.
The unlikely pair become partners, and soon, best friends. However, their deepening bond grows complicated when Dorian falls in love with Cash. Their friendship is too important to throw away over an interspecies attraction, especially in a career that is already nasty, brutish, and short.
And things become even more complicated when Cash finds himself returning the vampire's affections.
When an unusually deadly case lands in the hunters' laps, their ill-fated affair takes a backseat. A pair of man-eating weredeer are on the loose taking victims' hearts. With the pressure on to end the killing spree, Dorian and Cash must set aside their feelings and hunt down the blood-thirsty deer.
Can Dorian and Cash's friendship survive this monstrous romance, or will they lose their hearts in the process?

The first thing you need to know about Leather and Lace is that it is Dean Winchester and Castiel fanfiction…or was at some early point in its life. I'm not assuming here; the author says so in the introduction. The fact that the characters' names start with D and C is even a nod in that direction, she says. I mention this because I think it's interesting, but also because I haven't watched all of Supernatural (please don't stone me). I have seen just about enough for Castiel to appear as a character, but not enough to understand Destiel as a ship yet. So, I'm a little behind the game coming into the book. But if I'd not been told about the love of Dean and Castiel prior to reading the book, I wouldn't have known. It's not something necessary to enjoy the story. I can attest to that.
Outside its Supernatural connection, I thought this was a super sweet, high angst book. Dorian and Cash are both wonderful characters that you want to care about and see get their happily ever after. I did think Dorian's push-me-pull-me went on too long without explanation and, honestly, I didn't wholly buy his hesitation in the end. But I could still appreciate it. Similarly, I didn't think the investigation/monster hunt held enough significance to move the plot as needed. But I still enjoyed the book and will happily read more of Cubed's writing.