I picked up a copy of The Christmas Light Battle, by Skylar M. Cates from Amazon on one of its freebie day. I read it as part of my Christmas Reading Challenge.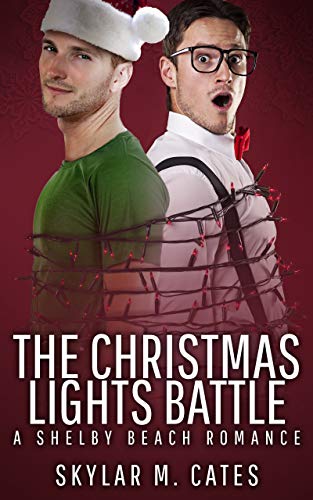 For a single dad and his neighbor, the Christmas competition is on!
Julian Moss wants to give his children a happy Christmas. Since his divorce, Julian has no time for a social life; he's been doing the tiring work of two parents while his cheating ex-husband dodges his responsibilities. If that isn't stressful enough, he has to deal with his new—and ridiculously good-looking—neighbor and his noisy dogs. Christmas used to be Julian's favorite holiday, but lately all he sees is the cost. Then Julian's young son tells him about a Christmas lights competition with a much-needed prize.
Leo Adams is going to be alone for Christmas…again. All he's ever wanted is to be accepted by his family, but he knows that will never happen. Deciding to focus on his career as a personal trainer, Leo develops a boot camp program on the beach, but he needs publicity. The lights competition offers Leo a way to get some free press, and if it annoys his snooty neighbor Julian—all the better.
The battle is on, and both Julian and Leo want to win. The stakes are high, the reward is great, and the neighbors are in it to win it. There's nothing like a little competition to make Christmas at Shelby Beach extra merry and bright.

On one hand, I thought this was super sweet. I liked both Leo and Julian. I liked that they healed one another and there was very little drama and/or angst between them. I appreciated the children and the presence of a supportive family and community. On the other hand, I thought there was some repetition and over-stressing of some elements. I think we're told about a million times that Julian is a single parent and his children are the most important thing in his life, for example.
Additionally, I think I have to give one of my least favorite literary criticism here. I hate the dictate to show, not tell. Not because it's wrong, but because it's become so ubiquitous that it's tossed out like confetti. But here I felt it's truth. It seems like a lot of this book is told, instead of shown—especially in the beginning—and it created a distance between me (the reader) and the characters that didn't need to be there.
Lastly, the ending felt a little rushed. Generally, however, I thought this a perfectly enjoyable Christmas romance.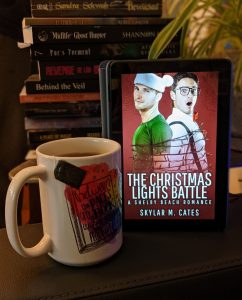 ---
Other Reviews:
Dogeared Day Dreams: Review Christmas Lights Battle
Recent Release Review: The Christmas Lights Battle by Skylar M. Cates
---
Come back this afternoon. I'll be reviewing Dreaming Of a White Wolf Christmas, by Terry Spear and tomorrow, when I'll be reviewing Solstice Surrender, by Tracy Cooper-Posey and Charley's Christmas Wolf, by C.D. Gorri. Yep, I've started having to double up to fit all the reviews in by Chrismtas.