This is going to be a long one. I'm giving you a bit of a two-for-one today. With going back to university and finding my time limited, I am loving graphic novels right now. I can get a reading fix without having to commit hours to it (that I don't have). Plus, it's just a fun medium all its own.
So, it wasn't really any surprise to find that I had signed up for two separate Vault Comics graphic novel review tours with Rockstar Book Tours. One for adult graphic novels* and one for middle grade. The latter, I admit, isn't my usual fare. But I have a middle grader of my own. So, it's good to know what she might be reading. And since they overlap, it only makes sense to combine them into one giant graphic novel review post.
That's the first half of this post. The second half is sort of a natural growth from it. If I'm going to do a Graphic Novel centric post, I might as well read some of the graphic novels hanging out in my Calibre and physical shelves waiting for attention. I have several
But before we jump into it, hop over here and here (to Sadie's Spotlight) to enter to win copies of the Vault or Wonderbond ones! Now, let's check them all out, starting with those from Vault and Wonderbound (a Vault subsidiary) and then moving on to the randos.
---

---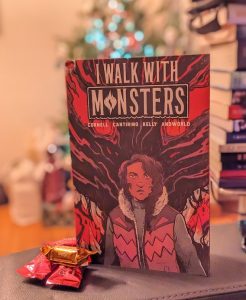 About I Walk With Monsters:
In her past, the Important Man took away Jacey's brother. Now Jacey has David, who is sometimes a monster. Together, they hunt those who prey on the vulnerable. But the Important Man is still out there.
MONSTERS WALK BESIDE US ALL, AND SOMETIMES LURK WITHIN.
In Jacey's past is the Important Man who took away her brother. Now Jacey has David, who sometimes transforms into a terrifying beast. Together, they've found a way to live–and to hunt, sniffing out men who prey on the vulnerable. But Jacey and David are about to run into the Important Man again.
From Paul Cornell (Wolverine, Doctor Who, Elementary) and Sally Cantirino (Human Remains; Door to Door, Night by Night; Last Song, We Have To Go Back) comes a haunting story about the monsters that walk beside us all, and sometimes lurk within.
Collects the complete six-issue series.
Review:

Found family is a beautiful thing, even when steeped in blood. I enjoyed this. In the beginning, I wasn't sure that I would. I liked the art right off the bat, but I spent almost a decade as a child abuse and neglect investigator. As such, I'm a little sensitive to content that touches on it. But, while what happened in the character's past was pretty clear, nothing was graphic enough to put me off.
It did take a little while to get around to explaining (in the vaguest sense) what David actually was. But I very much appreciated his and Jacey's relationship, and the happy ending made me smile.
*The book was also over on Sadie's Spotlight.
---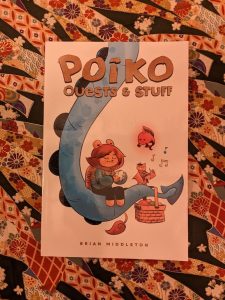 About Poiko:
There is no such thing as an "average" day for Poiko!
Have you ever had to deliver a care package to a dragon with allergies? Have you ever been waylaid by a school of space fish? That's just an average day for Poiko, the kingdom's most reliable courier. The world can be a big, scary place, but it can also be wondrous. Sad things can happen, but there are always good friends to turn to, or new friends to make. And no matter what, there is always, always someone who could use your help. Poiko learns all these lessons and more every time he brushes his tail, pulls on his hoodie, and steps out into a new adventure. The philosophical whimsicality of Calvin & Hobbes meets the fantasy-scapes of Adventure Time in this modern-day classic.
Review:

Honestly, this was just adorable. There was so much to see in all of the pictures, and all of it was just a little marvelously off-kilter. The episodes are a little…episodic. (Yeah, I know, that's a poor description.) There isn't really any carryover from one to the next, which makes the appearance of a dead father figure in two of the three an oddly notable redundancy. But Poiko is cute; there are lessons about kindness, punctuality, connection, family, friendship, love, and more. All in a package that young ones can relate to. I have no qualms about passing it to mine.
*The book was also over on Sadie's Spotlight.
---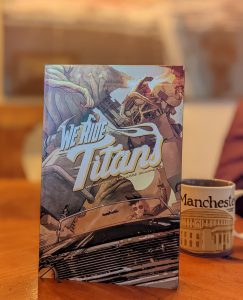 About We Ride Titans:
It's Mechs vs. Kaiju in this hard-hitting, action sci-fi adventure!
Kaiju hit hard. Family hits harder.
Just when you break free … you get pulled back in.
Trying to keep your family from imploding is a tall order. Titan-rider Kit Hobbs is about to find out it's an even taller order when that family has been piloting the Titan that protects New Hyperion from the monstrous kaiju for generations. With an addicted, spiraling brother, a powder keg of a father, and a whole bunch of twenty-story monsters, she's got her work cut out for her.
Review:
I enjoyed the heck out of this. I liked the art and use of color. I appreciated the sibling affection and inter-generational discord. There is a little bit of background romance, and I liked that it wasn't sullied by needless cheating to give the story artificial grit. There's diversity and appropriate use of mental health services to address the result of generational trauma.
I did think that the introduction of the villain was abrupt, and I could have done with a little more backstory. The mother's role was never defined in any significant way, and the kaiju just exist; we're not told anything about them. All of this could have been improved with a little more length and time to unfurl. All in all, however, I'll call this one a winner. If you're at all into the mecha genre, check this out.
*The book was also over on Sadie's Spotlight.
---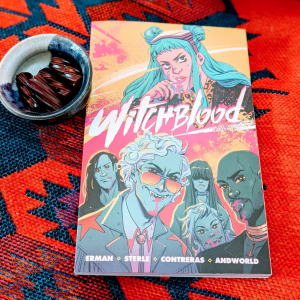 About Witchblood:
MAGIC IS IN THE BLOOD
A modern, Wild West road trip about a witch named Yonna cruising the Southwest as a band of bloodthirsty biker vampires, The Hounds of Love, hunt her scattered coven for the source of all magic: witch blood.
Review:
I liked the art a lot. And, while I know it's an itty-bitty little thing, I cannot tell you how much I loved that Yonna had armpit hair! I liked some of the ways the world is changed. Women in the confessionals and Mother Superiors giving orders, for example. It also blends humor and horror with a punk-ish dystopian Wild West vibe. If I say it felt super Tank Girl-like, will I be showing my age too much? Actually, now that I've said that, Lori Petty would make a great Yonna, IMO.
But the whole thing sags on the story. I wouldn't say I disliked it. But I wasn't blown away by it for a few reasons. For one, the pacing is off. It meanders through the first half and then rushes through the second, where arguably the more important action happens.
But the real issue for me is that here you have a story full of powerful women— a female deity, all of her female witch descendants, some female hex hunters, and a female vampire with important knowledge. But the story hinges on a man. The vampire with knowledge doesn't use it herself. Noooo, she gives it to a man. And he becomes the cliched villain while she clings wordlessly to his back throughout the story. Where this graphic novel had an open opportunity to do something interesting, it instead trod the dull, well-worn path. It just felt cheap and unoriginal.
All in all, I'd call this a middle-of-the-road read. I merely enjoyed the graphic part more than the novel part.
*The book was also over on Sadie's Spotlight.
---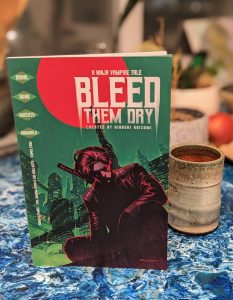 About Bleed Them Dry:
American Vampire meets Blade Runner in this futuristic supernatural, sci-fi mystery. Immortal vampires and humans live side by side peacefully in engineered mega-city, Asylum. Until, impossibly, someone starts murdering vampires. Assigned to the case, Harper Halloway unearths a deeper truth: humanity's future has been edited.
A NINJA VAMPIRE TALE.
The year is 3333. Earth is in a state of recovery. Vampires are real, and though far less populous, they thrive alongside humans in the Japanese-engineered mega-city known as Asylum. People have come to understand that some Immortals are good, some are bad, and most navigate the world without incident. There is peace. That is…until now. Someone is brutally murdering vampires. And Detective Harper Halloway has been assigned to the case. To solve it, she'll have to unearth a much deeper truth: The future of humanity has been edited.
Review:

Now, I've read my fair share of vampire stories. Horror vampires. Romantic vampires. Sparkling vampires. Erotic vampires. Prepubescent vampires. Angsty vampires. Lolita vampires, Space Vampires.  But I can't recall that I have ever, before now, read about ninja vampires, let alone futuristic, dystopian ninja vampires. This was a trip. I enjoy it, though. I loved the art. I liked the characters and the world. I did find the villain a little over the top and cliched. Plus, I was never quite sure if he was The Big Bad of the world or just the big bad to the characters. All in all, however, I'll be looking for more.
---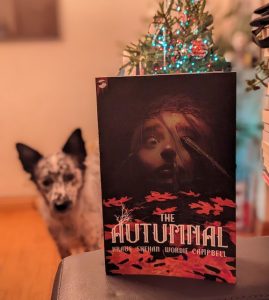 About The Autumnal:

Her estranged mother's death brings Kat Somerville back to Comfort Notch, New Hampshire, a home town she can barely remember. As she and her daughter Sybil try to settle into a new life, Kat discovers that sometimes home is best forgotten.
WELCOME TO COMFORT NOTCH! HOME OF AMERICA'S PRETTIEST AUTUMN. YOU'LL NEVER WANT TO LEAVE.
Following the death of her estranged mother, Kat Somerville and her daughter, Sybil, flee a difficult life in Chicago for the quaint–and possibly pernicious–town of Comfort Notch, New Hampshire. From NY Times best-selling author, Daniel Kraus (The Shape of Water, Trollhunters, The Living Dead), and rising star Chris Shehan, comes a haunting vision of America's prettiest autumn.
Review:
This is listed on Amazon as a mystery. And it is mysterious. But, while not gory, I would still put this on the edge of horror. I enjoyed it. I liked the characters. I liked the mother-daughter relationship. I liked the art.
The inclusion of a plot arch involving a woman wronged by a man and going on a generations-long murder spree is fairly cliched and over-used. And a lot of the plot is fairly predictable. But it redeemed itself in the end…even if the end felt a little rushed. All in all, I'd read more.
---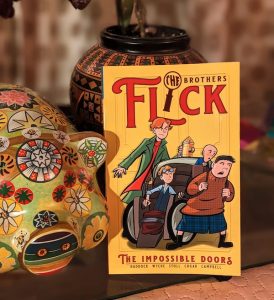 About The Brothers Flick:
Sherlock Holmes meets the Wayside School in this Middle Grade supernatural sleuthing graphic novel about the Flick brothers – four siblings searching for explanations to outbreaks of supernatural strangeness and otherworldly weirdness in their Edwardian-era hometown. A bump in the night? They're on the case! At Strander House, things are…weird. There's an ogre wedged in the closet, and you have to be careful not to slip on the leak coming from the ocean in the attic. What's possibly weirder than the fact that you can walk into the bathroom and end up in next Tuesday are the four brothers who investigate these strange supernatural occurrences…the Brothers Flick! Leo, Desmond, Remy, and Cub seek to get to the bottom of every shadow you swear you saw move. If they happen to stumble upon answers to the mysterious disappearance of their own family along the way, all the better. For fans of Lemony Snicket, Gravity Falls, Whispering Pines, the Hardy Boys, the Winterhouse series, the Greenglass House series, and the Wayside School series!
Review:
I thought this was cute. It is the Brothers Flick, and, as such, it is very boy-centric. Girls play very little part, even as passive side characters. And I am really hoping we one day stop painting boys as the only active participants in life, especially in literature geared toward boys who will grow up to be men who interact with women and raise daughters. But I otherwise thought it had a cute tone, nice art, unexpected representation, and a sensible message. All in all, a winner. Plus, as an extra personal bonus, it's set in Oldham, where it happens that I lived for a while. (Though my husband, who grew up there, says nothing looks right. I reminded him is a middle-grade graphic novel about a magical orphanage, not a documentary. LOL)
---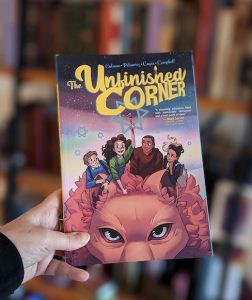 About The unfinished Corner:
Twelve-year-old Miriam doesn't know much about Jewish mythology. She's not even sure she wants to be Jewish. So, imagine her confusion when a peculiar angel whisks her off to finish the mythological Unfinished Corner, a place full of monsters and mystery.
TWELVE-YEAR-OLD MIRIAM IS FULL OF QUESTIONS, BUT THE WHOLE UNIVERSE IS COUNTING ON HER FOR ANSWERS.
Jewish mythology has it that when God created the universe, one corner of it was left unfinished. Opinion is divided on why, but everyone agrees that the Unfinished Corner is a dangerous place full of monsters. Twelve-year-old Miriam neither knows nor cares about the Unfinished Corner. She's too busy preparing for her Bat Mitzvah, wrestling with whether she even wants to be Jewish–until a peculiar angel appears, whisking her, her two best friends, and her worst frenemy off to this monstrous land with one mission: finish the Unfinished Corner.
Review:
Being a middle-grade graphic novel, this isn't my normal fare. But I enjoyed it. In my head, I'd sketched out a whole review in which I said how much I liked it while acknowledging that as a non-Jew, I probably had a different experience with it than someone who grew up in the faith. I, for example, liked that the angel and the king of demons were cordial, and I didn't know if this was indicative of the teachings of the Torah or just how the author chose to depict the interaction since it's a children's book. Or that I appreciated the little side-note translations of some of the Yiddish words, but a Jew probably wouldn't need that.
Then, I read a review of the book written by a person who is Jewish that excoriated it, calling it Jewish erasure and commenting that it obviously wasn't written by an own-voice author. And I had to re-evaluate how I feel about the book. Did I relate to it not because they did a good job walking the line of 'for Jews, but accessible to non-Jews,' or did I (as what the book would call a Goy) relate to it because it was written for non-Jews using Jews, the Jewish history and faith as plot-fodder? That's a giant difference.
I don't think I can know the answer to this, but I'm inclined to take the word of the practicing Jew over anyone else. Regardless, I very much liked the art, and if I take the questionable representation out of the grading matrix (a privilege not everyone has, I acknowledge), I liked the story itself.
---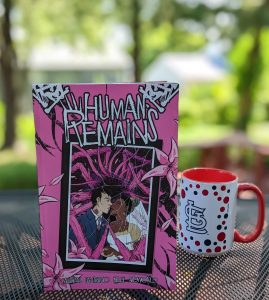 About Human Remains:
Live. Laugh. Love. Scream.
DIE.
Dax and Bisa love each other. But in this new and terrifying world, love is dangerous. Feeling anything is dangerous. Love. Hate. Joy. Fear.  Any of these in strong doses will bring a swift death. Earth has a new and terrible invader — monsters that smell the scent of emotion, salivate over the prey, and hunt the very feelings that make us human.
Review:
It took me a little while to digest Human Remains. I finished with a feeling of, "Welp, that's a thing I've read now." I don't know that I could have even said if it all came around to a salient point or not. However, as I sat on the experience for a little while and thought on it, I decided that it did. (Of course, it did.)
It's gory and touches on any number of heavy, trauma-inducing subjects. (I think a trigger warning wouldn't be out of place for this one.) But watching as the characters slowly move from shocked and horrified to numb and blasé in the face of countless deaths is poignant. (Can I say a book with roughly 2 million panels of humans being violently dismembered was poignant?) But what does it mean to be human, how much will we give up to remain human, how much can we change and still be human are all important and thought-provoking questions this graphic novel seeks to answer.
I did think it took a long time to come around to those points, and a few of the devices used to make them were a little ham-handed. But all in all, I'll call this one a success.
*The book was also over on Sadie's Spotlight.
---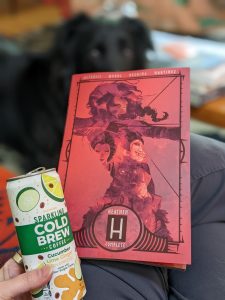 About Heathen:
SMASHING THE PATRIARCHY – Viking Style!
WOMAN. WARRIOR. VIKING. HEATHEN. OUTCAST. 
THE GODS MUST PAY…
Born into a time of warfare, suffering, and subjugation of women, and exiled from her village for kissing another woman, the lesbian Viking warrior, Aydis, sets out to destroy the god-king Odin and end his oppressive reign. She is a friend to many as she is joined by mermaids, immortals, Valkyries, and the talking horse, Saga. But she is also a fearsome enemy to the demons and fantastic monsters that populate the land. 
Review:
I enjoyed the heck out of this, and, my goodness, could it be any more timely, with its 'throwing off the oppressive yoke of the patriarchy' theme? At one point, a character even explicitly says, "Each one of us is the person she is because we reject the authority of men." And let me tell you Odin (the representation of male authority here) does not give that oppressive authority up easily, nor the insistence that it's actually benevolence.
I also loved the art style. I'm admittedly picky about what I like and don't like in the graphic part of a graphic novel, but I like this a lot. I did find all the female flesh on display an odd choice. I'm not necessarily bothered by it—and sure, women can enjoy it too—but all the…I'm gonna call it fan-service…has always seemed very male-gazey to me. And that just felt out of place in a graphic novel that so explicitly was addressing female liberation (sexual and otherwise) from male dictatorship and control.
I also thought the last volume felt far more rushed than the previous ones, and therefore the ending was a little anti-climactic. All in all, however, this was a winner for me.
*The book was also over on Sadie's Spotlight.
---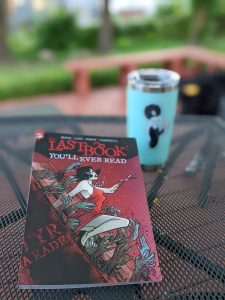 About The Last Book You'll Ever Read:
Read this book at your own peril.
Olivia Kade wrote the book that ended the world. Now she needs someone who won't read it.
Civilization is a lie. Hidden deep in our genes is the truth. And it is slowly clawing its way to the surface. Olivia Kade knows the truth, and she has become the prophet of the coming collapse. Her book, SATYR, is an international bestseller, and it is being blamed for acts of senseless violence and bloodshed all over the world. Olivia's own life is in danger from those who have read her work. Determined to conduct a book tour, she hires security professional Connor Wilson to act as her bodyguard. She only has one requirement: he cannot read her work.
Review:
I thought this was OK, leaning toward Meh. I liked the art, the way it was clean sometimes, but then loose when people lost their civilized mien. The subtle ways some things were relayed tickled me—like Conner suddenly going shirtless (let's say half naked for the sake of my comparison) at the same time that he essentially went half Wilding. I loved the coloring, and I saw where the author was going with the plot. But I still have to say 'Meh.'
One of the main reasons is how sexualized so many things are. Now, I know when a female reader of a male claimed media (as graphic novels still are) starts saying anything like "I thought there was too much sex" or "the female character was too sexualized," a lot of people roll their eyes and dismiss the reviewer as a pearl-clutcher, a feminazi or whatever—and yes, I know women were involved in the publication. But hear me out.
I understand that the book is saying humanity is skewing toward baser instincts. Sex and lust are just such instincts, and Olivia's book was called Satyr, after all. Plus, even the main characters were losing themselves in a way. I didn't miss any of the symbolism (and I don't have any general issue with nudity or sex in a graphic novel, not even a gory horror one). But I also don't think any—except maybe one—sex scene is actually stitched into the plot. There are several of them, and they tend to just be shoved in between chapters with no real plot-relevant purpose. And there are just so many non-sexual panels that are a little too male-gaze sexy to serve the purpose. The cover is a great example of what I mean. I eventually just rolled my eyes at it all. Not because I was overly scandalized or because of my feminist leanings, but because it was all just so darned pedestrian. I was legitimately bored by it.
All in all, I didn't hate it. I saw value in it. But it definitely wasn't my favorite graphic novel of the year.
*The book was also over on Sadie's Spotlight.
---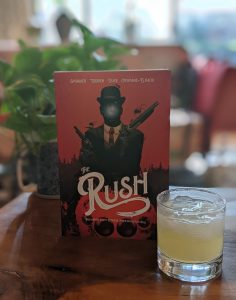 About The Rush:
1899, Yukon Territory. A frozen frontier, bloodied and bruised by the last great Gold Rush. But in the lawless wastes to the North, something whispers in the hindbrains of men, drawing them to a blighted valley, where giant spidertracks mark the snow and impossible guns roar in the night.
To Brokehoof, where gold and blood are mined alike. Now, stumbling towards its haunted forests comes a woman gripped not by greed—but the snarling rage of a mother in search of her child…
Review:
I'll admit that at the beginning of this graphic novel, I wasn't certain I'd like it. I liked the art from page one. But the plot and letter-writing narrative style took me a little bit longer to come around to. But by the end, I was fully invested and enjoyed it. Nettie was just the kind of bronze-balled bitch with a mission that I appreciate. There's symbolism, sacrifice, and a moral to the story.
Admittedly, the obsessive love of a mother for her son is a little cliched as a plot device, and I might have liked to understand a bit more of the hows, whys, and what nows of the whole situation. But I don't know that there would have been an elegant way to include it. So, I can't really complain on that front. All in all, I'd be happy to read more by this team.
*The book was also over on Sadie's Spotlight.
---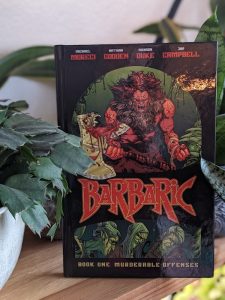 About Barbaric: Murderable Offenses:
Owen the Barbarian is under a witches' curse to make amends for his murderous past. His bloodthirsty talking Axe is his moral compass. And he'll do whatever it takes to do good, even it if it means cleaving a few skulls. Even if it means helping a witch.
OWEN THE BARBARIAN HAS AN AXE. AND HE'S GONNA DO GOOD WITH IT IF HE HAS TO KILL SOMEONE. Owen the Barbarian has been cursed to do good with what remains of his life. His bloodthirsty weapon, Axe, has become his moral compass with a drinking problem. Together they wander the realm, foredoomed to help any who seek assistance. But there is one thing Owen hates more than a life with rules: Witches.
Review:
It's Conan the Barbarian meets Kill Bill. But I had a very middle-of-the-road reaction to Barbaric: Murderous Offenses. On one hand, I can recognize and appreciate that Owen is an anti-hero. There is some humor in the narrative (like the comments on the name Owen for a barbarian). Axe is the obvious comic relief in the sea of blood and carnage. I liked the art, etc. But on the other hand, there is just so much that is cliched here (and so little that is new). The background is littered with pointlessly bare tits; there is very little depth to the characters. The plot, so far, is literally just go here, dismember this; go there, kill that. There are hints that there might be more to the story eventually. But you don't see it here, and I was bored by it.
---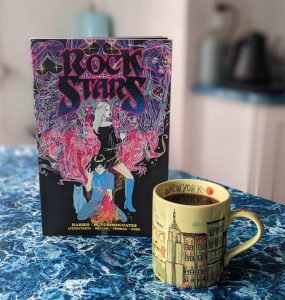 About Rockstars:
When the music-scene murders start happening again, Jackie Mayer is ready. He knows the secrets of the past. Or, least he thinks he does. But the gods of rock are darker than he thought, and the conspiracy he uncovers is more insidious than he could have imagined.
THEY SOLD THEIR SOULS FOR ROCK 'N' ROLL!!
Music, murder, magic, and mayhem.
Rock fan Jackie Mayer possesses an uncanny, almost unearthly talent: he's able to connect the legends, secrets, curses, whispers, mysteries, and conspiracies in the music world. He knows musicians hunger for fame and fortune – making them easy marks. Old Scratch likes nothing better than the burn of desire – whether a 19th century violin virtuoso, a young Blues man down in Memphis, or an occult-obsessed guitar genius. When a pattern of unsolved 1970s music-scene murders resumes in present-day Los Angeles, no one sees the connection except Jackie. Together with muck-raking music journalist Dorothy Buell, they soon uncover a vast conspiracy involving a legendary band, demonic possession, and sacrifices to the dark gods of rock. Jackie is drawn into the underbelly of the music world – and he's going to have a devil of a time getting out alive.
Review:
This had a whole esoteric mystery vibe going on. And the art matched it well; I liked it. But the honest truth is that I just spent an awfully long time being confused. I sensed the story was going somewhere and even had a tentative grasp on where. And it did come around to it in the end. But I spent so long confused that the payoff didn't quite land for me. The compilation is comparatively long, and eventually, I was just waiting for it to get to the point.
---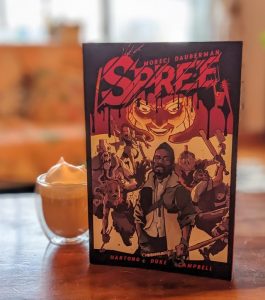 About Spree:
The world ended, but the mall still stands. Within name brand gangs and department store tribes fight over the scraps of civilization. After an assasination, Andre Reed must navigate this murderous haven to prove his innoncence, and prevent the end of the world, again!
IT'S THE END OF THE WORLD. BUT THE MALL LIVES ON. Here in the heartland of the U.S. of A., the world has ended! But worry not, because the mall still stands. And within the walls of this consumeristic mecca lies a new world order: box store tribes and name brand gangs, all vying for limited space and resources. So, actually…you can worry! Especially for poor Andre Reed, who—after the assassination of a tribal leader—has to navigate the mad haven to prove his innocence, and prevent the end of the world, again!
Review:
Entertaining enough, with elements I enjoyed. I very much appreciate the badass female character, plus the fact that she and the male lead pair up platonically. The story plays out as an allegory on the danger of long-term consumerism, and that's interesting. As is keeping track of who is stabbing whom in the back.
I also appreciate that there wasn't a lot of gratuitous nudity. While I'm not a prude and don't have any problem with nudity in the general sense, it is so often splashed around for the cheap thrill of it. I usually just find myself rolling my eyes at the pedestrianness of it (surely the opposite of what is intended). So, kudos to the artist for not taking the path of low-hanging fruit.
Ultimately though, I didn't love the art style, and that's a big issue in a graphic novel. There's nothing inherently wrong with it except personal preference, but it kind of left me cold.
---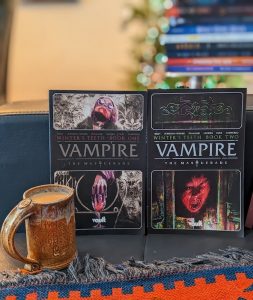 About Vampire the Masquerade: Winter's Teeth  (1 & 2):
When Cecily Bain, an enforcer for the Twin Cities' vampiric elite, takes a mysterious new vampire under her wing, she's dragged into an insidious conspiracy.
Will she be able to escape with her unlife and protect her aging, Alzheimer's-afflicted sister, or will she be yet another pawn sacrificed to maintain the age-old secret: that vampires exist among the living.
Review of both:
20+ years ago, in high school, I played Vampire the Masquerade a few times. (Or LARPed, I suppose, would be more accurate.) I had friends who were very into it and were recruiting me to join. I enjoyed it, but role-playing is not for introverts. No, thank you. I was too embarrassed to relax into it, even if I saw the appeal.
When I picked these graphic novels up, I wasn't certain if they were actually the same as the game I played way back. Turns out they are. I enjoyed the story, liked the characters and world, and appreciated the art. I was a little thrown off by there being two storylines (with different writers and artists). I kept expecting them to intersect, which never happened (or hasn't yet). But all in all, I was happy with the first volume and glad to have volume two.
However, I wasn't as impressed with the second one as I was with the first. It started off well, but about halfway through, I feel like the art got sloppy, and the story began to rush. I still liked it, just not as much.
---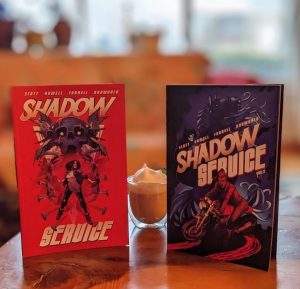 About Shadow Service (1 & 2)
Worried your partner is cheating? Need a missing person found? Gina Meyers is the Private Investigator for you. Sure, she's a witch who worries that her powers make her more of a monster than the crooks she's trying to catch, but it's not like London's criminal underworld is literally going to hell… is it? Spy craft meets black magic in the shadowy world of MI666.
Review of both:
I thought volume one a good start to a new series. It has some cliched elements but also a fun cast of anti-heroes and quite a lot of humor scattered amongst the horror. I was never fully sure if Gina was being hunted or recruited, which kept me in suspense, and I liked the art a lot.
Volume two picks up just where volume one finished and is a fun continuation of the story. We get a little more character development for all involved. However, I do think it jumps around a little too much. It does come to a satisfying—if open—ending, though. I'd happily read another few volumes.
On an amusing side note, I love that the same couple showed up in the background almost everywhere the characters went.
*The books were also over on Sadie's Spotlight.
---
When Chase Blaine's estranged brother and sister-in-law are murdered, he becomes guardian to McKenzie and Zach, the niece and nephew he hardly knows. Seeking stability for the children, Chase moves his newly formed family to his ancestral home in Cape Augusta – which overlooks a deep, black bogland teeming with family secrets.
Review of both:
I don't really see any reason this was split into two volumes (or eight episodes). It would read better as one, I think. So, I'm just going to treat it that way. I really liked the art and the color palette. The whole thing had a 1950s, Swamp Thing vibe going on. I liked the plotline with the disaffected, prodigal son trying to pull it together for the children he finds himself responsible. The whole importance of family theme is endearing.
Unfortunately, the whole thing lost me about halfway through volume two, when I just wasn't entirely sure what was happening and how the monster was defeated…if the monster was defeated. So, all-in-all, only an OK read.
---
Everyone knows Magic doesn't exist anymore, until Magic changes everything.
Fife's plans to become an expert swordsmith are interrupted when he meets Neitya, an extraordinary girl unlike any he's ever met before…primarily because of her horns and amnesia. Worryingly, she seems akin to the monstrous Vel who roam the countryside. but when Fife is attacked by the Vel, Neitya saves him by using a skill thought to be forever lost to everyone: Magic. Fife and Neitya decide to journey together, seeking the guidance they need to unravel the mystery of her origin.
Review of both:
I enjoyed these a lot, the second more than the first. I found the characters likable, and there is a lot of growth in the course of the story. I liked the artwork and color choices. There are also quite a lot of various representations. There are important characters of both genders (as well as numerous characters with indistinct genders), races, body types, and (though there is no actual romance or anything sexual beyond a single kiss in the bonus short story), hints at relationships of various pairings. I wish I had volume three on hand to finish it up.
*The books were also over on Sadie's Spotlight.
---
A decade ago the first Waves unleashed humanity's worst impulses and the world plunged into chaos. Now single father Paxton can resist the waves, and he's created an oasis of peace for his children. But he must venture out to save his son.
OUR WORST IMPULSES UNLEASHED.
A decade has passed since the first Waves hit, unleashing humanity's darkest impulses and plunging the world into chaos. Paxton, a single father of three, must venture from the secluded haven they've built to restock the medicine his chronically-ill youngest son needs to survive. When the somewhat routine trip goes awry, Paxton and his children—now separated—will battle everything in their path to reunite.
Review:
I enjoyed this series, though I liked the art of volume one more than two. The world-building is pretty scarce, and I did feel a bit like I'd been dropped into the middle of things at first. It took a bit to catch on to what was happening. But once I did, I liked where it went. I liked that we have a badass female amputee as a main character and a violent dystopian future in which finding one's calm is the means to survival. All in all, a winner.
---
From the pre-existing graphic novel TBR
I really thought I'd read more than I managed to by the time I posted this. So, I gave myself until the Spring semester started to come back and add any I managed to finish. This means that they rolled over into 2023, and I do so hate when things aren't neatly discrete. But oh well. As much as that annoyed me, it was more satisfying to have them all in one place.
---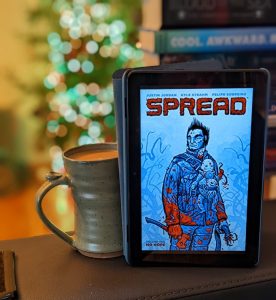 About Spread: No Hope
Ten years ago, we dug too deep and unleashed something we couldn't control. Something that twisted and warped every living thing in its path. Something that remade the world in its own image. The Spread. Now, one man has a found a child who could save the world, but he has to fight monsters, raiders, cannibals, religious fanatics, and one cranky baby to do it.
Review:
Spread has been hanging out in my Calibre for two and a half years. But I finally read it. It's super gory, but that's contrasted with an endearingly upbeat narrative. Some of it is admittedly cliched—the baby-obsessed woman, for example. But there are so many little jokes built around the word/name No. I liked the morally grey characters, and the whole thing has an interesting premise. I'd read more.
---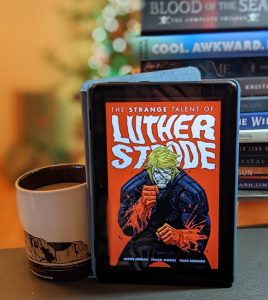 About The Strange Talen to Luther Strode:
Luther Strode is just your average geek ― until he sends for an exercise course from the back of an old comic book. What he gets is the instruction manual from a murder cult as old as mankind that does everything that it promised ― and more!
Review:
Meh. This graphic novel didn't really do anything for me. I liked the art well enough. But the story didn't really hold my attention. It all just felt a little too much like a teen boy, big-man fantasy. I suppose if you are one of those teen boys, it'll be great for you, though. The whole thing is also quite gory, which I don't particularly mind. But I felt like it was gratuitous, not enough story to balance it out, I think. Plus, it did seem to end quite abruptly, without any real sense of wrap-up. All in all, there's just nothing new or interesting here.
---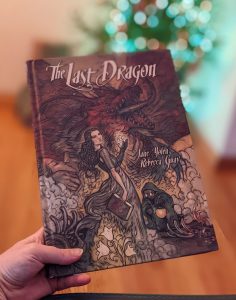 About The Last Dragon:
Two hundred years ago, humans drove the dragons from the islands of May. Now, the last of the dragons rises to wreak havoc anew — with only a healer's daughter and a kite-flying would-be hero standing in its way.
Review:
Sooo, Amazon tells me I purchased this in 2013! Given the amount of time that has passed, I suspect I've read it before. But I don't remember. So, I gave it a read/reread. The art is absolutely stunning. And it is definitely a hero's tale of old. But, honestly, though the 'hero' found his heroism in the end, he was a bit of a cad up until then. Plus, I'm just not lit on fire by a plot that is based on destroying the last of a species. A natural creature just doing what animals do is hardly a satisfying villain. I was really hoping the plot would go in a different direction. But, alas, I was disappointed. I think I could frame half the pages, though.
---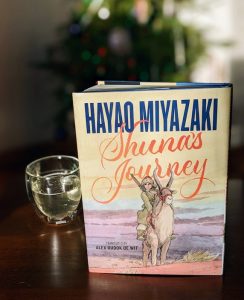 About Shuna's Journey:
Shuna, the prince of a poor land, watches in despair as his people work themselves to death harvesting the little grain that grows there. And so, when a traveler presents him with a sample of seeds from a mysterious western land, he sets out to find the source of the golden grain, dreaming of a better life for his subjects.
It is not long before he meets a proud girl named Thea. After freeing her from captivity, he is pursued by her enemies, and while Thea escapes north, Shuna continues toward the west, finally reaching the Land of the God-Folk.
Will Shuna ever see Thea again? And will he make it back home from his quest for the golden grain?
Review:
Bought this for my husband for Christmas since he's a huge Studio Ghibli fan. The art will be eminently familiar to any Hayao Miyazaki fan. I thought it was lovely. The story felt incomplete, though (and not just because it's a volume 1). It felt a bit like a draft. I'm going to always want to own any project Miyazaki touches. This just happens not to have been a favorite.
---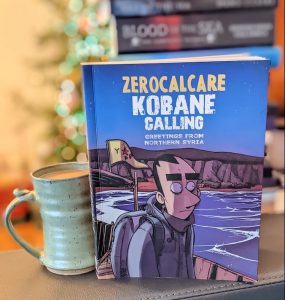 About Kobane Calling:
KOBANE CALLING is the autobiographical memoir of a young Italian cartoonist, writing and drawing under the nom-de-plume Zerocalcare, who volunteers with the Rojava Calling organization and heads into the Middle East to support and observe the Kurdish resistance in Syria as they struggle against the advancing forces of the Islamic State. He winds up in the small town of Mesher, near the Turkish-Syrian border as a journalist and aid worker, and from there he travels into Ayn al-Arab, a majority-Kurd town in the Rojava region of Syria. As he receives an education into the war from the Kurdish perspective, he meets the women fighting in the all-female Kurdish volunteer army (the Yekeineyen Parastina Jin, or Women's Defense Units), struggling to simultaneously fight off the Islamic State even as they take strides for Kurdish independence and attempt a restructuring of traditional patriarchal Kurdish society. In a story and style at once humorous and heartbreaking, Zerocalcare presents clear-eyed reportage of the fight against the Islamic State from the front lines.
Originally published in the Italian weekly INTERNATIONAL, and then collected and expanded in an edition by Italian publisher BAO Publishing.
Review:
I thought this was an interesting autoethnography about the author/illustrator's experience visiting Syria during the war. I thought it did a good job of humanizing a lot of aspects of it that otherwise feel abstract (and it does it with humor and self-deprecation). The art style isn't a favorite. But that's a small complaint in the grand scheme of things.
---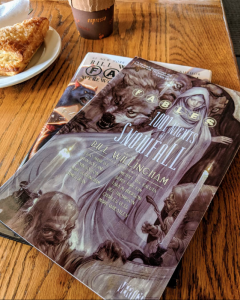 About 1001 Night of Snowfall:
This volume, set in the early days of Fabletown, long before the FABLES series began…Traveling in Arabia as an Ambassador from the exiled FABLES community, Snow White is captured by the local sultan who wants to marry her (and then kill her). But the clever Snow attempts to charm the sultan instead by playing Scheherazade, telling him fantastic stories for a total of 1,001 nights.
Review:
This was my first introduction to Fables. The first I've read, despite being #7.5. And, meh, I thought this amusing enough, I suppose. I liked most of the stories' art, though some more than others. But I do have to wonder if anyone involved in the production noticed that the vast majority of the stories are predicated on the rape, abuse, and often murder of the female characters. And even if it wasn't explicit in the stories (which it usually was), the sexism and misogyny underlie almost everything. Or is it truly so normalized that it flew completely under the radar?
---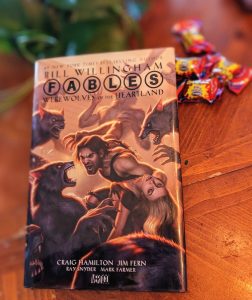 About Werewolves of the Heartland:
Bigby Wolf embarks on a quest through the American Heartland to find a new location for Fabletown, a secret society of exiled fairy tale characters living among the "mundys." In his wanderings, Bigby stumbles across Story City, a small town that seems to be occupied solely by werewolves. Oddly enough, they seem to already know and revere Bigby, but at the same time they've captured and caged him.
Review:
So, I've only read one other Fables book, and it wasn't a real winner for me either. However, I liked it better than this. I found so very much of this graphic novel icky. The fact that the single person of color in it is being hunted by the white cast. The fact that the ex-nazi community is wholly blond and blue-eyed (and doesn't feel all that EX-nazi). The lack of a wider purpose to the story. The way the primary female character plays so very little role beyond seductress and damsel. The unnecessary nudity. (I don't have any problem with it, in general, but there comes the point when it serves no purpose beyond titillation, which is an excessively cheap trick and usually a sign the graphic novel is trying to compensate for some other lack.) The main character's dismissive attitude. All in all, this was a failure for me. It feels like something written/drawn by a man with little to no self-awareness, and I feel no need to subject myself to more.
---
*There are a few included here that I reviewed earlier in the year. But since they are part of the broader Vault tour, I decided to bring the reviews over and add them here too.