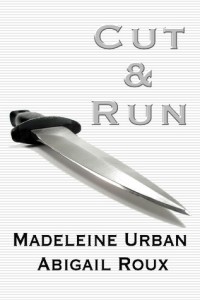 Cut & Run, by Madeleine Urban and Abigail Roux is one of those books that everyone always seems to be talking about, so I borrowed an ecopy. (Thanks, D.)
Description from Goodreads:
A series of murders in New York City has stymied the police and FBI alike, and they suspect the culprit is a single killer sending an indecipherable message. But when the two federal agents assigned to the investigation are taken out, the FBI takes a more personal interest in the case.

Special Agent Ty Grady is pulled out of undercover work after his case blows up in his face. He's cocky, abrasive, and indisputably the best at what he does. But when he's paired with Special Agent Zane Garrett, it's hate at first sight. Garrett is the perfect image of an agent: serious, sober, and focused, which makes their partnership a classic cliché: total opposites, good cop-bad cop, the odd couple. They both know immediately that their partnership will pose more of an obstacle than the lack of evidence left by the murderer.

Practically before their special assignment starts, the murderer strikes again – this time at them. Now on the run, trying to track down a man who has focused on killing his pursuers, Grady and Garrett will have to figure out how to work together before they become two more notches in the murderer's knife.
Review:
I'm afraid I can only spare this book enough energy for a brief review. I enjoyed some bits of it—some of the sarcasm, some of the sex, some of the sweet (if utterly unbelievable) moments, seeing the two men learn to depend on one another, etc. 

But other bits…well, not so much. For one, it drug on and on. At one point I had convinced myself that pages really were being snuck in while I wasn't looking. For another, I found the characters (Ty especially) inconsistent. Their personalities were unpredictable and ever changing, each feeling disconcertingly childlike at times. The mystery was fairly obvious far before the big reveal. I think they ate, put on their shoes, checked their guns and filled their pockets about a million times. Women are represented as screechy, needy, bitches. The whole 'they're total opposites' was over emphasised and the way Zane's dependencies and self-destructive tendencies were handled made him feel weak. 

I'd say I'm half and half, loving and hating this book. So, a safe three stars from me. If I came across a free or loaned copy of the sequel I'd read it, but I'll not be crying if one never crosses my desktop either.