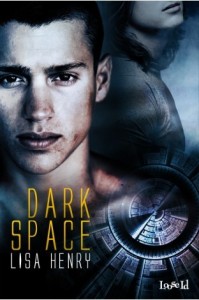 I borrowed an ecopy of Lisa Henry's Dark Space. (Thanks A.)
Description from Goodreads:
Brady Garrett needs to go home. He's a conscripted recruit on Defender Three, one of a network of stations designed to protect the Earth from alien attack. He's also angry, homesick, and afraid. If he doesn't get home he'll lose his family, but there's no way back except in a body bag.

Cameron Rushton needs a heartbeat. Four years ago Cam was taken by the Faceless — the alien race that almost destroyed Earth. Now he's back, and when the doctors make a mess of getting him out of stasis, Brady becomes his temporary human pacemaker. Except they're sharing more than a heartbeat: they're sharing thoughts, memories, and some very vivid dreams.

Not that Brady's got time to worry about his growing attraction to another guy, especially the one guy in the universe who can read his mind. It doesn't mean anything. It's just biochemistry and electrical impulses. It doesn't change the truth: Brady's alone in the universe.

Now the Faceless are coming and there's nothing anyone can do. You can't stop your nightmares. Cam says everyone will live, but Cam's probably a traitor and a liar like the military thinks. But that's okay. Guys like Brady don't expect happy endings.
Review:
I quite enjoyed a lot of this book. Lisa Henry can seriously write. I've not read a lot by her, but everything I have has been excellently penned. This is no exception. It's also touching and a little thought provoking.
Brady and Cameron were a wonderful pair. I enjoyed Cameron's quietly apologetic nature and Brady's outwardly calm terror. In a lot of ways, their personalities and behaviours, given their circumstances, were believable. Though I might have expected a little more dissonance in Cameron's attempt to return to humanity and I was vaguely uncomfortable with Brady's almost obsessive need to accept a title before he could accept his feelings (especially since, in terms of M/M tropes, it felt a lot more like GFY than anything else).
I was also a little confused about how sex with an alien could enable communication. I accepted it as part of the fiction that kept the plot rolling, but it also felt a little like an obvious artifice to enable Henry to take the story where she wanted it to go. In other words: a convenient (if not uncommon) plot device, rather than any natural growth of the story. And I disliked having to read the first person rape.
I was also a bit disgusted with the shiny happy ending. It too felt forced and unnatural, given how dark everything had been to that point. For the most part, however, despite my few quibbles, I ended the book more happy than not.