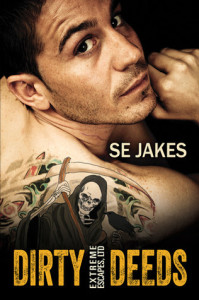 I've been on a S. E. Jakes kick lately, as I scurry to get to know all of the Extreme Escapes, LTD men. Lucky for me, Netgalley is willing to send them to me. Today I got ahold of Dirty Deeds.
Description from Goodreads:
Two seasoned operatives finally meet their match: each other.
Cillian works for the mysterious Special Branch 20: an organization that runs black ops commissioned by the British government. His specialty is deep undercover assignments with virtually no support. He's been alone for so long that he no longer knows anything else.
Mal's also used to being alone. Wanted in several states and even more countries, he's not allowed in the vicinity of any of his former Navy SEAL teammates. And his current assignment is to track Cillian in order to discover the spook's endgame. Except he's no longer sure which one of them is getting played.
Cillian isn't about to let the mission that's consumed him for the past several years crumble because an outsider is poking around where he doesn't belong. But Mal forces his way through Cillian's defenses—and into his heart—exposing a devastating betrayal that could destroy them both.
Review:
Ah, hell, there was cursing involved in reading this book, both the good kind and the 'I may have just damaged my kindle in the rage induced tantrum' kind.
The good: Cillian and Mal are hawt! I mean, seriously smokin' hot together…even if they almost aren't ever really 'together.' Like each of Jakes' books I've read so far, seeing two damaged men at least prop each-other up (if not all out heal one another) touches something soft inside that I absolutely love. Plus, the writing is pretty good and the dialogue believable.
The bad: There seemed to be a lot more emotional impact inferred than actually shown. One man, usually Cillian, would say something and the other man would be breathless or they'd have phone sex (IM sex) and be panting as if they'd had the real thing. Not entirely believable.
Lastly, why, oh why, does a book that barely reaches 100 pages and is intended as at least a trilogy need to be a cliffhanger? Why, actually, does it need to be three novellas, instead of one solid book, at all? This breaking of a story into several snippets is a trend that I despise. I have dropped entire series and authors, even, because of it. I HATE IT! Do you hear me authors and publishing industry? I HATE IT. Please, for the love of all that is holy, stop.
Final say: good, worth reading…but I'd have waited until the series was complete if I'd known it has a very precipitous cliffhanger and no resolution or conclusion.