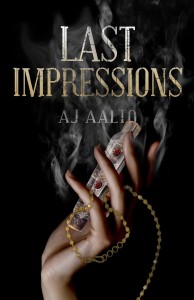 Wendy, from BookTrope sent me an ARC of Last Impressions, by A. J. Aalto. It's due for publication on June 13th. You can see my review of the previous Marnie Baranuik books here.
Description:
When an FBI Internal Affairs investigation lands the Preternatural Crimes Unit in a bureaucratic spank-fest, it feels like the perfect time for Marnie Baranuik to skip town and lend her expertise to a bear-sized Canadian cop who doesn't want her help with his case, his love life, or his car stereo. Back in her childhood stomping grounds, Marnie leaps into action, facing an exorcist in skinny jeans, a slap-happy specter, and an old friend up to new tricks. Are ghosts behind a string of unusual deaths? Why didn't her revenant companion, Lord Harry Dreppenstedt, tell her he had a Combat Butler? Can she survive dinner with her parents? With a shifty man of the cloth offering her soul's redemption, and a revelation that could change the future of her love life, she has her gloved hands full. She may not make a great first impression, but no one makes a Last Impression quite like Marnie.
Review:
Ms. Aalto is consistent if nothing else. I find that I could cut and paste my review of this series' previous two books here and have them make perfect sense and be wholly accurate. But what fun would that be? The points may be the same, but I'll make them again.
I love Marnie—Marnie's foul mouth, Marnie's lust crazed mind, Marnie's sarcasm, Marnie's need to do the right thing, Marnie's selfish idiosyncrasies, Marnie's ability to always come out on top, Marnie's amazing ability to thrive in and on utter chaos, Marnie's relationship with Harry (who is also fabulous). I love all of this. Every time I read one of the Marnie Baranuik Files I simply roll with laughter. I can't help it.
It's all over the top. Undeniably, it is. Marnie takes time to make smart aleck comments on the brink of certain death, she destroys more personal property than you can shake a stick at, she's brash and has no mental-to-verbal filter. No one could really survive in such a state. You have to accept that as part of the fun though. And I do.
The only real complaint I've ever had, still have, and find it's getting stronger with every book of the series I read, is the way Marnie is infantalized by the men in her life. They treat her like a favoured child and she in turn behaves like one—saying anything she likes with no regard for decorum, using ridiculously juvenile words (in and amongst all of her creative cursing), immaturely taunting people and circumstances, wearing children's accoutrements, sulking, blowing raspberries at people, throwing tantrums, allowing the men (grownups) to talk over, around and about her in incredibly condescending ways (even if it is meant to be teasing), etc. In small doses, as in the first book, it was tolerable. But I find it's starting to grate.
But honestly, that's my only real issue with the book/series and it's one I'm more than willing to put up with for the rest of the enjoyment I get from it/them. Looking forward to more.