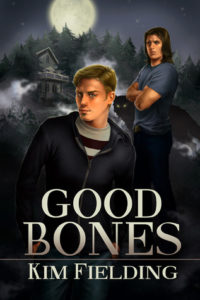 I downloaded Kim Fielding's Good Bones from Dreamspinner Press.
Description from Goodreads:
Skinny, quiet hipster Dylan Warner was the kind of guy other men barely glanced at until an evening's indiscretion with a handsome stranger turned him into a werewolf. Now, despite a slightly hairy handicap, he just wants to live an ordinary—if lonely—life as an architect. He tries to keep his wild impulses in check, but after one too many close calls, Dylan gives up his urban life and moves to the country, where he will be less likely to harm someone else. His new home is a dilapidated but promising house that comes with a former Christmas tree farm and a solitary neighbor: sexy, rustic Chris Nock.
Dylan hires Chris to help him renovate the farmhouse and quickly discovers his assumptions about his neighbor are inaccurate—and that he'd very much like Chris to become a permanent fixture in his life as well as his home. Between proving himself to his boss, coping with the seductive lure of his dangerous ex-lover, and his limited romantic experience, Dylan finds it hard enough to express himself—how can he bring up his monthly urge to howl at the moon?
Review:
When I first finished Good Bones, my initial thoughts was, "Aww, that was sweet." I was happy with the read. But the more I thought about it, the more I realized how cliched the representation of the rural poor was in Chris—uneducated, goalless, ambition-less, loose, lonely, and apparently desperate to be someone's wife or equivalent. The more I pondered it, the more it bothered me and the less pleased I was with the book. Not every country person, even poor country people, is the child of a single, alcoholic, drug addicted whore. Suddenly, the whole book looked a little cliched and shallow.
In this new light, though the story was still sweet in the end, I realized not much actually happened and, while Chris was shown to be wonderful, I couldn't figure out what he saw in Dylan, who didn't have much character beyond hipster-archetect-werewolf.
I liked the book well enough as a fluffy little read, but just don't think too deeply about it.