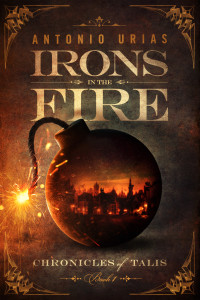 Author, Antonio Urias sent me a copy of his novel Irons in the Fire for review.
Description from Goodreads:
The City of Talis is a fragile beacon of civilization on the edge of the Faërie Lands. Beyond lies a wilder world of dark enchantments and terrible wonders, but behind the city walls humans and faëries live together in uneasy peace—until an explosion rocks the city and long smoldering tensions threaten to ignite. 
As the Commandant of Police, Baron Hessing has maintained stability for decades. But with a murderer on the loose, an anarchist bombing the city, and rumors of a faërie uprising, he is starting to loose control. Hessing finds himself caught in a web of interlocking conspiracies and he may need to choose between saving his city or his family. 
Into this maelstrom appears the Countess. Trained from birth for a single purpose—vengeance—suddenly she's everywhere from secret catacombs to the halls of power. Beset by enemies on all sides, it will take all her training to succeed in a city on the brink of revolution. Plans are in motion centuries in the making that will change the fate of Talis forever. 
Review:
This was almost a winner for me. It had an interesting world, interesting characters, a convoluted plot, and people/fairies doing things for deeply personal reasons. And for the most part, outside of some repetition, the writing was very readable. It could have been really really good. Instead, it was ok.
There were several reasons for this. One, there were about 4 billion characters, each with a plot thread of their own. It was too much and became confusing. Two, the narratives, from all these characters' perspectives were often provided to the reader in very brief snippets. At one point we got about a page of one character getting sea sick and then jumped away again. It was jarring and not a particularly engaging way to read a story. (It made the book feel very long.) Lastly, the book, with all its many many plot points doesn't wrap up. So, you've been presented with multiple mysteries, none of which are solved. This is a BIG no-no for me.
All in all, it has some fun fantasy characters and the beginning of what will probably be an intriguing storyline 1,000 pages from now. If you're willing to commit to the long haul it's worth picking up. I don't know that I am.