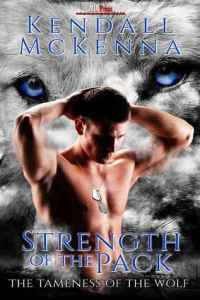 I grabbed a copy of Kendra McKenna's Strength of the Pack on a day it was running free from the publisher (which is a bit of a miracle since it's normally $8.99).
Description from Goodreads:
A Marine werewolf and his commander bring legends to life while surviving combat deployment in Afghanistan.
Lieutenant Lucas Young doesn't know much about shifters. When Sergeant Noah Hammond is assigned to Lucas' platoon, the Marine Corps' True Alpha werewolf challenges the Lieutenant's authority and his self-control. As Lucas learns to dominate and command Noah, he struggles against a strong attraction and deepening emotional bond. During their combat deployment to Afghanistan, Lucas and Noah begin mirroring legendary partnerships. Their bond and their power grow as they survive dangerous combat and ambushes. When one of them is wounded in battle, they both must embrace the strength of their bond before they lose each other forever.
Review:
I'm disappointed. I was really looking forward to reading this book and it started off so well. For close to half of it, I was loving it. I thought both Lucas and Noah were damn sexy. I thought the sexy-scenes were hot (even if there was no actual sex). I thought the set up to go to war was interesting. I happen to have a special love of scenting in fantasy romance/erotica and there is a lot of that here. I was truly enjoying the experience.
The problem is that the book then had its second half, which pretty much just felt like the first half on repeat. It takes far, far, far too long for the relationship to progress. In the mean time, the characters keep doing the exact same things over and over and over again. The author even uses the same phrases to describe the same actions a lot of times. So, honestly, it just feels like the exact same sexy scene again and again (but still no sex until the very end).
I was annoyed by that, but I would have tolerated it. What finally snapped my patience was the fact that the two men had a psychic bond. They were literally in each-others' heads, hearing thoughts, sharing emotions, etc. So, I find it 100% and absolutely unbelievable that Lucas could go sooooo long without realising Noah's true feelings or that his situation was not just a professional one. It was beyond the realms of reasonable believability, therefore extremely frustrating to watch the relationship stagnate because one character hasn't figured something out that I can't understand how he couldn't see. Plus, he'd practically been told more than once by more than one person. Gah!
Then there was the whole Dominant of the True Alpha thing. For the first half I understood it (even if I had to force myself to overlook the obvious contraction of it). Lucas was shown to be…well, dominating of Noah. But by the second half he had fizzled out to the average mm romance 'bottom' and any domination that might have been happening was not by him. So, it lost all significance for me. Let's just call a mate a mate and stop trying to dress it up as new and unusual.
The writing was fine. The editing was passable. I noticed a few mishaps, but not enough to bother me. All in all, an OK read that felt far worse than it was because I had such high hopes, but also really was not as good as it could have been, for fairly obvious and easily fixable reasons.