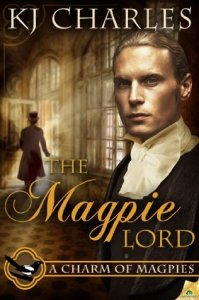 I borrowed a copy of The Magpie Lord, by K. J. Charles. (Thanks, L.)
Description from Goodreads:
Exiled to China for twenty years, Lucien Vaudrey never planned to return to England. But with the mysterious deaths of his father and brother, it seems the new Lord Crane has inherited an earldom. He's also inherited his family's enemies. He needs magical assistance, fast. He doesn't expect it to turn up angry.
Magician Stephen Day has good reason to hate Crane's family. Unfortunately, it's his job to deal with supernatural threats. Besides, the earl is unlike any aristocrat he's ever met, with the tattoos, the attitude…and the way Crane seems determined to get him into bed. That'sdefinitely unusual.
Soon Stephen is falling hard for the worst possible man, at the worst possible time. But Crane's dangerous appeal isn't the only thing rendering Stephen powerless. Evil pervades the house, a web of plots is closing round Crane, and if Stephen can't find a way through it—they're both going to die.
Review:
A number of people I follow of Goodreads have read and loved this book. I'm always nervous starting such a book, because there is so much more of a chance of going in with high expectations and being doubly disappointed if it doesn't live up to the hype. Luckily for me, The Magpie Lord does. I really quite enjoyed it.
I liked Crane's Devil may care attitude. (I was expecting a stuffy Earl and was relieved to find he wasn't.) I liked that Day held his own, despite his small stature. I adored Merrick. He was, by far, my favourite character. I liked everyone's witty banter and general disregard of social dictates.
Despite what I liked, there were also things that niggled at me. I thought Crane's transition into trash-talking sexual pursuer was sudden and startlingly abrupt. As if from one page to the next he went from having a professional relationship with Day to seeing him as a potential conquest and that required he tell him repeatedly what he would do to him.
I thought that despite being strong in most contexts, anytime the story swerved toward a sexy scene all Day's descriptions felt like those of a woman. To quote another reviewer (because I couldn't say it better), "He is constantly on his knees, gets his red lips moistened and "broken" open by Crane, he is breathy, nearly faints half of the time, reacts like a Harlequin lady to Crane, is snippy, in the end gets f*cked like a girl (tried several times and f*cked in the end like that as well) and it's just not a femme who is described there. It's a "male girl"."
I felt cheated out of the sex too. There were several almosts, but the final actual act was practically glossed over in favour of its consequences. What's more, the suggestion that Day was a natural submissive to Crane's preferred domination came out of nowhere and felt like a gimmick in the end. What it actually probably is is a set up for their relationship in future books, but I can only judge from here for now.
Lastly, though the mystery was interesting for most of the book, the revelation of the villian(s) was a let down. They came out of nowhere, thereby holding no emotional relevance for the reader. Heck, half the time I couldn't even keep the names straight as they'd played so little role in the book that they hadn't cemented in my mind and they were so similar.
So, I had a couple complaints, it's true. But For the most part, despite not being a fan of historical fiction in general, I really enjoyed the book and will be looking to continue the series.