I accepted a copy of Winterset Hollow from the author, Jonathan Edward Durham, for the purpose of review.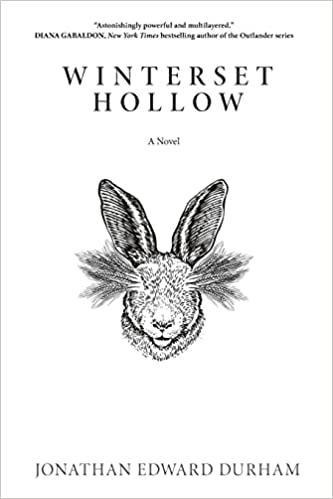 Everyone has wanted their favorite book to be real, if only for a moment. Everyone has wished to meet their favorite characters, if only for a day. But be careful in that wish, for even a history laid in ink can be repaid in flesh and blood, and reality is far deadlier than fiction . . . especially on Addington Isle.
Winterset Hollow follows a group of friends to the place that inspired their favorite book-a timeless tale about a tribe of animals preparing for their yearly end-of-summer festival. But after a series of shocking discoveries, they find that much of what the world believes to be fiction is actually fact, and that the truth behind their beloved story is darker and more dangerous than they ever imagined. It's Barley Day . . . and you're invited to the hunt.

Were you traumatized by Watership Down as a child? Well, now you can have that same experience as an adult, with Winterset Hollow. When Winterset Hollow was presented to me for review, is was called dark fantasy. And while there is no denying that anthropomorphized animals is a fantasy element and the book is dark, I'd call this closer to literary horror personally. I'd also call it very good.
The comparison to Watership Down is no doubt no accident. I don't believe it would have been possible for the author to have written the book without the comparison explicitly in mind. After all, the author doesn't call it his first book, or even his debut work. No, he calls it his "watershed debut novel."

No accident. I also wondered if Frog wasn'to a little nod to Wind in the Willows. And I wouldn't even be surprised to find more subtle references too. (Did Rabbit's twitchy leg have a shadow of Thumper in it?) This is that sort of book, the kind where things mean something. I'll leave it up to each reader to decide what. I know I have my own thoughts.
But it's also eminently readable. Eamon was an amazingly relatable character and the friendship between him, Caroline, and Mark was marvelous. I always appreciate platonic, mixed gender friendships and they are surprisingly hard to find in modern literature. There's some diversity, even in the relatively small cast, and the writing flows nicely.
I did notice a few editing hiccups (like her mouth flew to her cover her hand, which was obviously meant to be the other way and a couple missing or flipped letters/words). But they were more notable in their rarity. This was generally well edited and easy to read.
All in all, I call this an undaunted and unrelenting contribution to the literary genre…whichever it chooses to roost in.