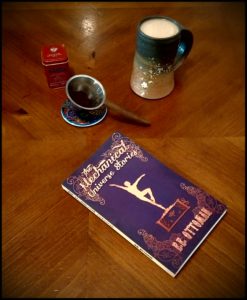 I purchased a copy of The Mechanical Universe, by EE Ottoman.
Description from Goodreads:
A world of mechanical animation, spell craft, beauty, and romance…
A Matter of Disagreement
Bad enough the rise of mechanical animation is a threat to Andrea's scholarly pursuits. Much worse that it's a threat to the livelihood of those who depend on him for support. But all his protestations bring him is notoriety and an unwanted introduction to the man responsible for ruining his life…
Duende
Famed opera singer Aimé has a lot in common with Badri, the Royal Ballet Company's most popular male lead. They have both dedicated their entire lives to their art and struggle to be taken seriously among the Empire's elite. But the cost of such dedication is that it leaves no room for other pursuits, least of all those of a personal nature…
Winter's Bees
Lord Marcel is a brilliant mathematician, member of the mechanical animation movement, and all around dandy. He is less successful in his love for Prince Gilbert. An arranged marriage should have been the perfect solution for bringing secret fantasies to life, but Gilbert wants no part of romance, especially not with a man he regards as a brother.
Review:
On the whole I really enjoyed this story collection. I liked the alternative history, magical world. I loved that all the main characters are people who almost never get to be romantic leads—fat men, trans men, differently abled, castrato, PoC (who fall in love with other PoC), men considered ugly by the standards of their couture, men with small penises. I would have really liked to have seen a woman or two. There are female side characters and they all seemed strong (if strong in very male ways), but no lead females.
The writing is very good, and the editing for the first two stories is pretty good too. It falls apart for the last one for some reason. I mean, really noticeably! But this isn't the first Ottoman book I've read and it won't be the last.
---
What I'm drinking: I call it tourist tea. Technically, it's English Breakfast Tea. But it's in a cute little red phone box souvenir tin (one in a set of three) that my aunt-in-law brought be from England. Thus, tourist tea…with milk.