Aiden Thomas' Cemetery Boys has been on my radar for a while. I finally got around to borrowing an audio version of it from the libarary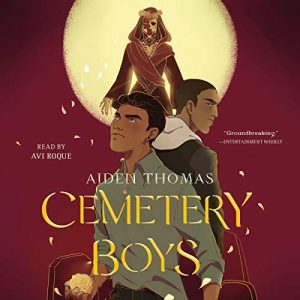 Yadriel has summoned a ghost, and now he can't get rid of him.
When his traditional Latinx family has problems accepting his gender, Yadriel becomes determined to prove himself a real brujo. With the help of his cousin and best friend Maritza, he performs the ritual himself, and then sets out to find the ghost of his murdered cousin and set it free.
However, the ghost he summons is actually Julian Diaz, the school's resident bad boy, and Julian is not about to go quietly into death. He's determined to find out what happened and tie up some loose ends before he leaves. Left with no choice, Yadriel agrees to help Julian, so that they can both get what they want. But the longer Yadriel spends with Julian, the less he wants to let him leave.

I have been intending to read Cemetery Boys for a while now. I've only put it off because I'm always afraid of books that have gotten too much hype and because I have to be in a particular mood to tolerate young adult literature with character on the younger end of the scale. (I'm 43-years-old, after all.)
I'm happy to say Cemetery Boys lived up to the hype and was very good. Sure, I personally thought some of the school bits and much of the general teenage angst was tedious (not the trans self-consciousness, that was different) . But that's just a symptom of being old. I loved how immersed the reader is in the Brujx and Latinx cultures. I appreciated that, though Yadriel's family struggled with his trans-ness, it was obviously not out of cruelty or a lack of love. And who wouldn't adore Yadriel and Julian's fierce dedication to one another by the end?
I did struggle a little with Yadriel's father's sudden acceptance. If felt a little too pat, but more importantly, I felt like he accepted the external confirmation that Yadriel was a Brujo, while I saw no evidence that he would have accepted him as a man on his own otherwise. I also guessed the end at the halfway mark. So, the mystery isn't super hard to figure out.
All in all, however, I'm glad to have finally given this one a go.