After seeing it praised on Twitter, I borrowed a copy fo Diana Biller's The Widow of Rose House from the library.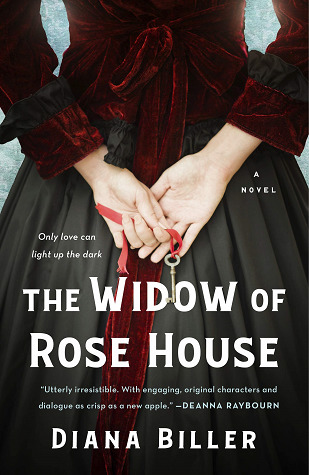 Description from Goodreads:
It's 1875, and Alva Webster has perfected her stiff upper lip after three years of being pilloried in the presses of two continents over fleeing her abusive husband. Now his sudden death allows her to return to New York to make a fresh start, restoring Liefdehuis, a dilapidated Hyde Park mansion, and hopefully her reputation at the same time. However, fresh starts aren't as easy as they seem, as Alva discovers when stories of a haunting at Liefdehuis begin to reach her. But Alva doesn't believe in ghosts. So when the eccentric and brilliant professor, Samuel Moore, appears and informs her that he can get to the bottom of the mystery that surrounds Liefdehuis, she turns him down flat. She doesn't need any more complications in her life―especially not a handsome, convention-flouting, scandal-raising one like Sam.

Unfortunately, though Alva is loath to admit it, Sam, a pioneer in electric lighting and a member of the nationally-adored Moore family of scientists, is the only one who can help. Together, the two delve into the tragic secrets wreathing Alva's new home while Sam attempts to unlock Alva's history―and her heart.
Review:
I adored this. I thought Sam was too adorable for words. When he fell into his distracted inventor mode or social oblivion I swooned. He was just too sweet. Alva was prickly, but with reason. I admit that I usually try and avoid books centered on women surviving abuse (it's a plot device I think is too often and too easily used), but I appreciated her strength here. Similarly, all of the side characters were marvelous. I want them all to get their own happily ever afters.
I think the book suffers from painting 21st-century morals on 19th-century characters. But I'll forgive it, simply because I liked it so much. I look forward to more of Biller's work.